Religious Tours in Greater Dallas/Ft Worth Area, TX
A religious tour in the Greater Dallas/Ft Worth area of Texas is sure to be an interesting one. Do not miss out on the opportunity to learn about this city.

Greater Dallas - Ft Worth Area Religious Tours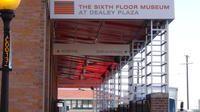 This tour is for those interested in the JFK assassination and includes a guided tour of Dealey Plaza, The Grassy Knoll, the JFK memorial and finishes at the Texas Movie Theater where Oswald was found.
Available 197 days between Jun 18, 2018 & Dec 31, 2018
View Schedule
You will explore Texas culture, food, and history on this 8 day tour. It starts in Forth Worth Stock Yards Historic District where you will visit a historic saloon, see the location where John Kennedy was shot, stop at Beaumont Cattle Ranch, tour Austin, tour Gruene Hall a former dance hall, and the Space Center in Austin on this multiple day sightseeing tour.
Available 2 days between Sep 7, 2018 & Oct 12, 2018
View Schedule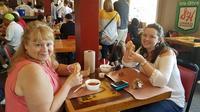 The Best of Everything Dallas Tour is a great and fun filled tour, a private professional tour guide will lead you around and share hidden places around the city and more, the tour also includes food tasting, light refreshments and beverages.
Available 49 days between Jun 23, 2018 & May 25, 2019
View Schedule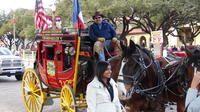 The second best selling religious tour in the Dallas/Ft Worth Area is the Half-Day Guided Best of Fort Worth Historical Tour, this small group tour is led by a art historian that will lead you to see many sites.
Available 197 days between Jun 18, 2018 & Dec 31, 2018
View Schedule
The Fort Worth Historical Tour is full of entertainment. The Fort Worth town has grown and became an amazing City. The Religious Tours will show you the best spots around the area like the Hell's Half Acre and the Stockyard Station with horseback riding, restaurants and much more.
Pricing and schedule are currently unavailable.