Aaa Limousine and Airport Service

Description
Aaa Limousine and Airport Service Photos (1)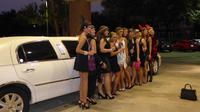 If you have never needed to get somewhere for a special occasion and wanted to arrive in style, then the Aaa Limousine and Airport service are for you. Whether it is a romantic night for two or someone is getting married and it's a wild bachelorette night; you should definitely ride in luxury. Your luxurious AAA Limousine package will include all the taxes, fees, and handling charges. It will also include bottled water, the professional driver and guide, and the luxurious limousine. Gratuities are not included in the package and depending on what the event is you can clarify if you need toddler or infant seats. Children must be accompanied by an adult always during the limousine ride.
The pick-up service begins from wherever the client desires to be picked up and the duration is customized to the client's needs. Packages start from 3 hours and can go up from there. Depending on the occasion you may need more than one limousine and for social events, the limousine will make sure anyone drinking will get home safe. Aaa Limousine and Airport service should also be used for business events as well. If you are flying with a client or flying to meet a client, arriving in a limousine shows the level of your commitment, class, and standards. You can also do some research and find out what their favorite items are and include them in the limousine.
No matter if you are celebrating an anniversary, wedding, proposal or a prom its best to do it in style and let Aaa Limousine. Also make sure that airport transportation is first class whether it's you, family or a business prospect.
Need a memorable gift for friends or family? Why not treat them to a luxurious ride with AAA Limousine.
Unforgettable memories don't just happen, they are created. We at AAA want you to know that with us any night can be one for the books. Whether it be a night out with friends or a night for you and her, we just want to spoil you that night. So don`t drink and drive, drink and have fun, and leave the driving to us.
Our Complimentary Special includes A bottle of Wine as the Special Gift from our Company*, Ice and Bottled Water, crystal glassware, and napkins.
We cater to all occasions, including Night on the Town, Dinner and Movie Packages, Concert / Sports Events, Birthday/Anniversaries, Weddings, Bachelor/Bachelorette parties, Christmas Lights Tours.
Check early for booking availabilities and consider the specific needs of your ride to make it a great Limousine night on the town.


Pickup & Return:
We will pick you up from any locations of your choice.

Includes:
All taxes, fees and handling charges
Bottled water
Driver/guide
Hotel pickup and drop-off
Private tour
Transport by private vehicle

Does not include:

Additional Information:
Confirmation will be received at time of booking
Infant seats are available on request if advised at time of booking
Children must be accompanied by an adult
Aaa Limousine and Airport Service: 3 Hours Up to 9 People
Dallas/JFK limousine tour
Aaa Limousine and Airport Service: 3 Hours Up to 13 People
3 hours Dallas/JFK
Aaa Limousine and Airport Service: 4 Hours Up to 9 People
4 hours Dallas/JFK tour
Aaa Limousine and Airport Service: 4 Hours Up to 13 People
Dallas/JFK
Book Now!