Helicopter Tour of the North Canyon with Optional Jeep Excursion

Description
Helicopter Tour of the North Canyon with Optional Jeep Excursion Photos (1)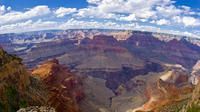 Has there ever been a time that you thought about getting into a helicopter? Taking a tour of the north canyon is something that most people would dream of doing and is something that can be done. This fun experience shows those who do it the natural beauty that the world has produced. This is an experience that all of the family should go through and is something that you won't regret doing when it is done.
There are times that you as the person who is going though the tour can choose. Morning or night time this is something that is for everybody. Everybody can see the beauty and the views that go along with this canyon. The helicopter makes sure that the views that are being shown off is something that you will never forget all while being able to take photos to remember the beauty of the canyon which thousands of people will go through in their life so that they can have that experience.. This ride normally lasts for about 30 minutes and is something that viewers will never forget. This canyon was made by the earth and has had water go through it which is why there are rings on the sides to show where the water has once been.
Overall this is something that is for everybody and is something that you as a person will never forget. Working on this tour is something that most love and will never get to experience again which is why they say to take the tour. The Grand Canyon is a national landmark and is something that takes the breath away from many.
Enjoy a memorable helicopter experience over the Southern and Northern Rims of the Grand Canyon.

You will have a "birds eye view" to this Natural Wonder of the World! After flying over the Kaibab National Forest, you will enter the Dragon Corridor, the deepest and widest part of the Grand Canyon. Marvel at the Canyon's legendary beauty while relaxing in comfort. Have your camera ready as the colorful vistas will leave you awe-struck. These sights, only accessible from a helicopter, will sure to be a topic of discussion for years to come!

If you select the 'Jeep' option, after you have landed you will travel to the Grand Canyon National Park with stops that include Moran Point, Grandview Point and other points of interest along the rim on an approximate 2 hour jeep tour. Your expert guide will point out all the highlights on your journey to the most picturesque parts of the Grand Canyon National Park. You will also have the opportunity to watch the IMAX movie of the Grand Canyon.

Pickup & Return:
Grand Canyon National Park Airport.
Returns to original departure point.
All flight times are approximate and subject to change due to weather conditions and weight restrictions.

Includes:
Aerial flight from Grand Canyon South Rim Heliport on a state of the art Bell Helicopter
IMAX Tickets (if Jeep option selected)
All taxes, fees and handling charges

Does not include:
Gratuities (optional)
Hotel pickup and drop-off

Additional Information:
Confirmation will be received at time of booking
Infant children are considered a lap child if they are under the age of two and have proof of age, such as a passport or a copy of their birth certificate
All passengers 18 years of age and older must present government-issued photo ID
In case if jeep option of the tour is selected, children must be 18 months or older to be able to participate
For comfort and weight/balance of the aircraft, passengers weighing over 300 lbs will be required to purchase an additional seat. This is payable directly to the tour operator on the day of the tour