Grand Canyon Railway Train Tour
Description
Grand Canyon Railway Train Tour Photos (12)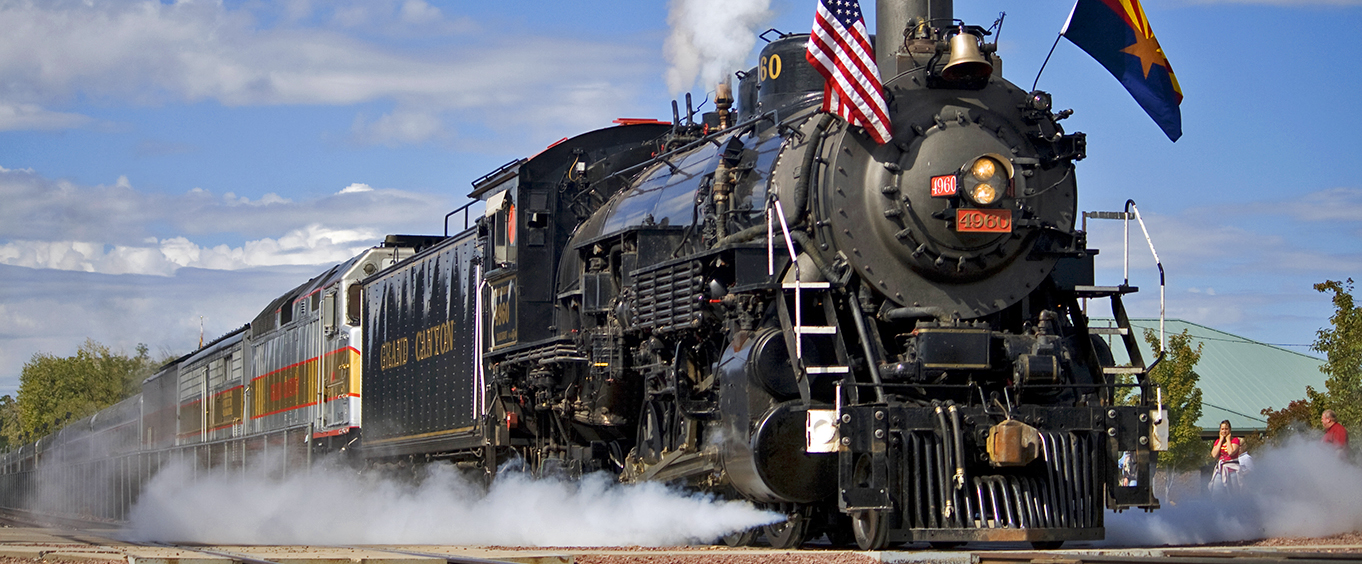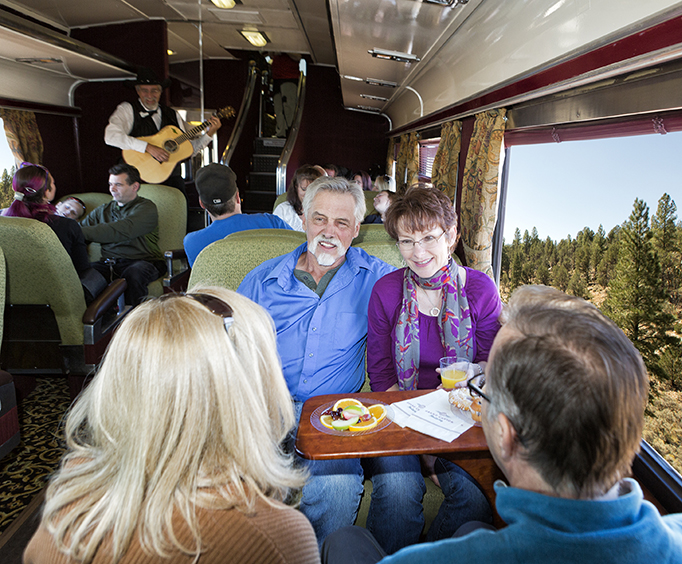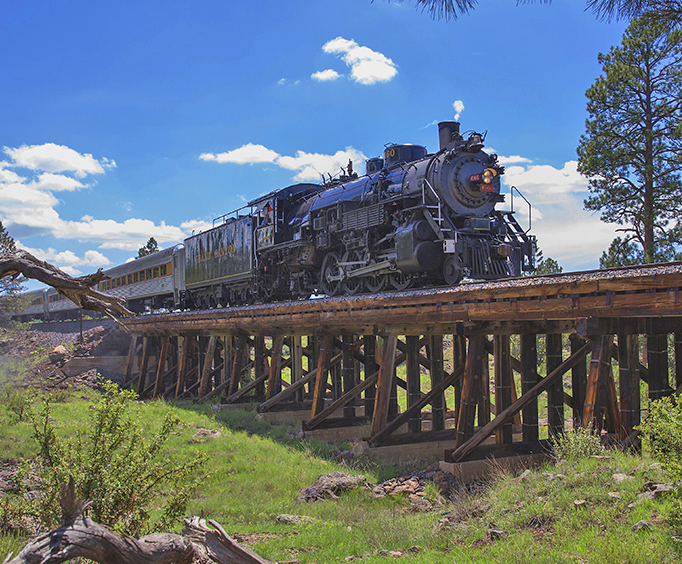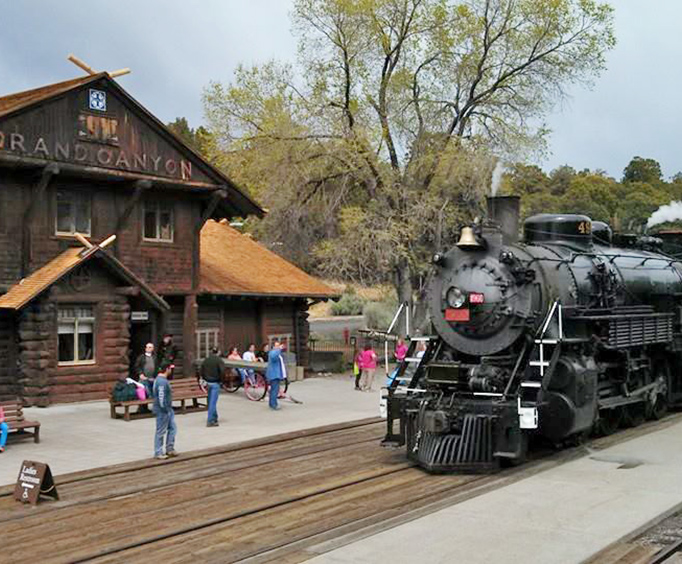 Experience the beauty of the Grand Canyon area while riding aboard a nostalgic coach train pulled by a vintage locomotive with the Grand Canyon Railway Budd Coach Train Tour. You'll discover you're more than content to watch a remarkable world go by as you tour the countryside from the comforts of your classic train car. Out your window, watch as the terrain changes from high desert to prairie, prairie to pine. It's a view that's ever-changing until you come across a view that changes so dramatically, it could very well change you. You have arrived at the Grand Canyon.
The journey will begin in historic Williams, Arizona and travel 65 miles north to the historic depot located on the South Rim of the Grand Canyon. Wildlife such as pronghorns, mule deer, and even mountain lions may cross your view as well. A variety of native birds such as horned owls, ravens, condors, or even bald eagles soar overhead. Whether you chose Coach or First Class seating, you'll gain an encompassing view of the Grand Canyon and its surrounding area during your next visit on the Grand Canyon Railway Budd Coach.
Trip Itinerary
Wild West Shootout: A half-hour before the departure, you'll be treated to a live show of Wild West proportions that are sure to prepare you for the surreal settings you'll experience along the tour.
Depart Williams Depot: Enjoy a 2 hour 15-minute journey from Williams to the Grand Canyon, and the expanse of scenery that makes up the trip.
Explore the Canyon: Whether visiting the Grand Canyon Village or exploring the Canyon itself, you'll have 3 hours 45 minutes to thoroughly soak in this unique environment.
Depart Grand Canyon Depot: Take one last opportunity to etch the countryside of the southwest into your memory with a relaxing return voyage to the Williams Depot. Just as on the initial departure, the time frame is approximately 2 hours 15 minutes.
Traveling Options
Coach Class- This class features bench-style seating in 1950s era passenger cars. During the ride, a musical group will perform classic songs.
First Class- As might be expected, First Class offers traveling accommodations that are a step above. Oversized, reclining chairs and grand picture windows ensure comfort and optimum viewing, with snacks available on the return trip.
Dome Class- The Dome Car is the perfect choice for those most interested in sightseeing along the Grand Canyon Railway Budd Coach. The car features a glass-enclosed top, with luxuries including snacks and a champagne toast. Children 15 and under are not permitted.
Parlor Class- The Parlor Class is the ultimate in luxury. Those traveling in the Parlor Car will find a private bar, open-air rear platform, snacks, and a champagne toast. Children 15 and under are not permitted.
South Rim Tour Options
Freedom Tour- Travel on a luxury bus, as it makes its way along its route, in complete comfort as you see amazing desert, forest, and canyon views that stretch for miles. Take in scenic vantage points you otherwise wouldn't along the South Rim. There are abundant plant life, native wildlife and beautiful formations awaiting you.
Grand Tour- Discover the sights of the area on a comfortable motorcoach with a delicious lunch at the Maswik Lodge included! The lodge boasts an extensive buffet with a variety of options that change daily. It's worth every bite for your trip.
Details:
Check Schedule for Dates and Times
Tour is Approximately 8 Hours and 15 Minutes
Admission to Grand Canyon National Park Not Included
Tour is Handicap Accessible
Meals and Activities During 3 Hour 45 Minute Layover Not Included*
Train Provides Restrooms and Air Conditioning
*The Grand Tour does include a lunch meal.
Reviews
5.0 | 4 reviews
Llama
Mexico City
✓
Verified Traveler
The best trip i have ever gone on!!!!!!!!!!!!!!!!
Faye & Sandy Borken
AZ
✓
Verified Traveler
Our hostess, sherry, was absolutely marvelous. Such a friendly person. And her smile was infectious. We absoltely loved the train ride.
Kathy Daciola
OH
✓
Verified Traveler
Everyone was wonderful and the ride was spectacular
Monserrat Anselmo
Cananea, SO
✓
Verified Traveler
We were happy to travel in grand canyon railway