Hotels with Indoor Pools, Gatlinburg - Pigeon Forge Area
View all 18 Hotels with Indoor Pool
Hotels with Indoor Pools, Gatlinburg - Pigeon Forge Area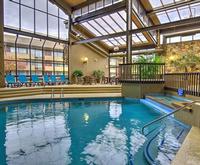 Rating:





Customer Rating:





Rooms are great. Outside pool is nice but inside pool always had to much chlorine. It would burn your eyes just being in the room
Zachary White
Irondale, Missouri
If a person is planning a vacation to Tennessee, they will need to make certain they have to have comfortable lodging. At the Best Western Toni Inn, families can relax and unwind. It is also close to some of the great attractions like Dollywood Adventure Park and Dolly Parton's Stampede. Now after spending time out on the town then the family can come back to their inn and hit the heated indoor pool and soak in their downtime and enable some great family bonding.
Indoor heated pool and hot tub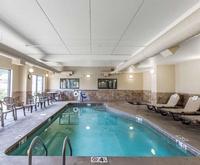 Rating:





Customer Rating:





Located just a short drive from the Pigeon Forge and Gatlinburg areas, the Comfort Suites in Kodak Tennessee offer all the comforts of home so that you'll truly be able to relax during your stay. Every morning a vast complimentary breakfast spread is prepared and laid out for customers in a buffet style so and even offers choices like fruit or pastries that you can grab on the go. Whether it's chilly outside or there is inclement weather in the area, the Comfort Suites has a climate-controlled indoor pool complete with a whirlpool hot tub to soak all of your aches and pains away.
Indoor heated pool is open from 6 AM to 10 PM daily.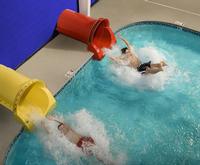 The Resort at Governor's Crossing is a unique hotel that offers spacious condos for those that want to travel to the Smoky Mountains. By staying at the hotel, you'll be able to gain access to different activities such as the indoor waterpark that features a large pool, water slides, hot tub, and more so you can splash around any time of the year. You can also enjoy other activities such as the game room or the movie theater that features many different family friendly movies playing all day long.
Outdoor pool and hot tub with a separate kids pool available for small children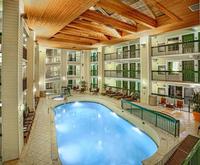 Rating:





Customer Rating:





Econo Lodge was great and I'd stay there again. However, we were on the 2nd floor(inside) and pool humidity and noise was not exactly wonderful.
Rhonda Mercer
Beulaville, NC
When looking for a hotel with an indoor pool during a stay in Pigeon Forge, Tennessee, the Econo Lodge Riverside Pigeon Forge is the perfect location. The hotel offers guests free Wi-Fi, a complimentary Continental breakfast and free parking. Other amenities include the indoor pool, a hot tub and a game room. The guest rooms feature a microwave and refrigerator, coffee maker, and cable television. Near many local attractions and restaurants, guests may want to check out Dollywood, Dixie Stampede, and the Great Smokey Mountains National Park as well as restaurants such as the Flying Horse Grill and Bullfish Grill.
Outdoor pool is open from 10 AM to 10 PM daily.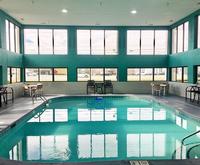 Rating:





The Hampton Inn in Sevierville Tennessee provides guests with some of the best amenities a guest can find in the Pigeon Forge area and is within a short drive to several hot-spot tourist locations in the area. Among the amenities available to guests is a vast morning spread to enjoy breakfast in the dining area, or take something to go if you're in a hurry. After a long day of adventures in Pigeon Forge, head back to the Hampton Inn to enjoy a dip in the luxurious indoor pool or simply lounge in the climate-controlled area while you're family takes a swim.
Indoor pool and hot tub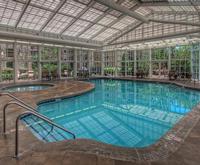 Rating:





The RiverStone Resort and Spa is the perfect vacation spot if youre looking for a resort with an indoor pool. This resort has a combination of luxury, relaxation, and some fun attractions nearby. The indoor pool has an exotic look, which will make you feel more relaxed as if you were on an island. The hotel amenities are an outdoor pool by the lazy river, fitness center, game room, playground, pet-friendly, riverside BBBQ area with picnic tables, and other great features, so you can see why this resort is the perfect place for an indoor pool.
Indoor pool and hot tub is open from 8 AM to 10 PM daily.
View all 18 Hotels with Indoor Pool