Surfing in Fort Myers, FL

Gets will have a remarkable time enjoying everything great about Fort Myers, FL. Plus, the area is great for surfing. Add some extra thrill to your getaway to enjoy a marvelous time.
Surfing takes on a whole new level of excitement and challenge with the Venice 2 Hour Duo E-Foil Lesson offered in Fort Myers, Florida. With two people and two boards shared between them, participants will receive a comprehensive instruction from an expert coach on the techniques of riding the E-Foil and gliding over the water. With the sleek design and powerful engine of the E-Foil, surfers will experience an unforgettable adventure that is fun, thrilling, and exhilarating.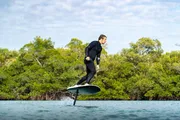 Surfing takes on a whole new experience with the Single Rider E-Foil Activity in Venice. Glide above the water and feel the thrill of freedom as you accelerate to exhilarating speeds with this futuristic technology. This hour-long activity includes all the necessary equipment and expert guidance from experienced instructors, making it an ideal fit for novice and advanced water sports enthusiasts. Enjoy the stunning coastal scenery as you ride along the Gulf's waves while creating memories you'll cherish for a lifetime.