Fort Lauderdale, FL Hotels with an Outdoor Pool
View all 33 Hotels with Outdoor Pool
Fort Lauderdale, FL Hotels with an Outdoor Pool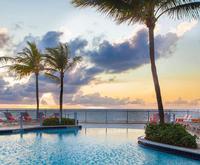 It is always nice to find a hotel with an outdoor pool, but the Pelican Grand Beach Resort has a spectacular outdoor pool that looks like it goes right into the ocean. The outdoor pool has plenty of seating, a beautiful view, and a bar. Other resort amenities include a fitness center, a business center, an indoor hot tub, and beach access. There is an onsite ice cream parlor and restaurant, and the guest rooms are equipped with cable television, coffee maker, microwave, and free local calls.
Outdoor pool and hot tub

Rating:





The Westin in Fort Lauderdale is the ideal place for you to stay on your next vacation to the Fort Lauderdale, Florida area. This pet friendly, luxury property is located in a tropical setting and is centrally located to activities and restaurants that are sure to delight the entire family. Other features of the hotel include a sauna, fitness center, pier, lagoon and jacuzzi. With the beach just seconds away from the front doors and a casino right down the street, this hotel definitely offers it all.
Outdoor pool and hot tub is open from 8 AM to 10 PM daily.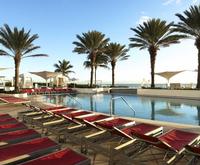 Make your Fort Lauderdale, FL vacation amazing at the Hilton Beach Resort with various options from studio rooms to three-bedroom hotels to meet your needs. At the resort, you'll have access to a fitness center, free high-speed internet, a relaxing spa, and an outdoor pool to enjoy. For your convenience, the beach resort is close to scuba lessons you take right on the beach and the mall. You won't have to worry at your stay with amenities like multi-lingual workers to help, bike rentals, a store, room service, baggage storage, a gift shop, currency exchange and an atm on location.
Outdoor heated pool and hot tub is open from 6 AM to 10 PM daily.

Rating:





Customer Rating:





Fun and relaxation are key for guests at the Hampton Inn Ft. Lauderdale-Commercial Blvd. At this hotel, you'll be able to enjoy amenities such as a free hot breakfast served every single day along with the fitness center and outdoor pool when you want to get a nice workout. Each room has features such as cable TV and free high-speed internet so that you can stay connected no matter what type of media you prefer. For those that are interested in eating out, you can simply walk to the Honky Kong City BBQ or Pho Hoa Restaurant when you want some great local food.
Outdoor pool and hot tub is open from 9 AM to 10 PM daily.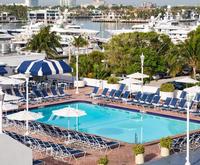 Your trip to Fort Lauderdale, Florida at Bahia Mar will be perfect, located near beautiful beaches you can explore, and close to Port Everglades where you can board luxury cruise lines. There is a romantic and private walkway that will take you straight to the beach, lighted at night to keep you and your loved ones safe. There is also a tennis court lit up at night for you to play in, jet skis if you're more sporty, and events you can attend. You and your friends will love the nightlife with many bars close by, restaurants and night-time venues.
Outdoor pool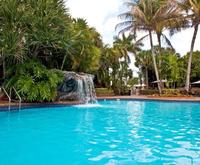 Rating:





Consider heading on over to Holiday Inn if you're looking for a place that offers true leisure and an enjoyable ambiance while on the road. Its sat between Fort Lauderdale and Miami and at has well over one hundred and fifty rooms meaning you're likely to get the spot you're seeking, whether it be for a single night or a couple of days to go sightseeing in the area. There is a working area for those that have to do work on their laptops while passing through. There's even a safe pool to soak in and enjoy company while on that special trip, definitely stop by.
Outdoor pool is open from 8 AM to 10 PM daily.
View all 33 Hotels with Outdoor Pool