Venice of America Hop on / Hop off Water Shuttle
Venice of America Hop on / Hop off Water Shuttle is no longer operating.
Description
If you're looking to tour Fort Lauderdale's waterways in style then be sure to check out the hop on & hop off tour availability with the Venice of America Water Shuttle. With several different stops, guests are able to fully customize their experience. You can hop on and off at any of the designated stops, with Whistle Stops you simply call to let someone know you need to be picked up, and the next passing Water Shuttle will pick you up within 45 minutes to continue the tour. If you'd rather simply journey through the tour in its entirety, it would take about 2.5 hours round trip.
The Water Shuttle, boldly colored bright pink to fit in with classic Florida style, is covered so that you can ride along the New River in comfort and style. You will be able to see a number of exciting places in the Venice of America, including Esplanade Park, the Downtowner Saloon, The Shops & Restaurants of Los Olas, and beautiful beaches. Plus, as you hop on board the fully narrated tour, you'll receive a complimentary pink lemonade to help you beat the heat.
Detailed Tour Itinerary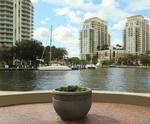 Hop-On Hop-Off at
Hop-On Hop-Off at
Las Olas Riverfront
The Las Olas Riverfront is extremely popular with locals and tourists alike. The boulevard features local fashion boutiques, delicious restaurants, tons of bars and cafes, and even art galleries. Complete with an architecturally unique design, Las Olas gives guests a wonderful experience that includes amazing views of the Intracoastal Waterway. Whether you're looking for a day with tons of shopping and delicious meals or looking for a night out on the town, Las Olas has something to offer everyone.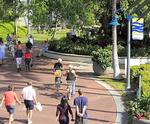 Drive By
Esplanade Park features breathtaking gardens and a gorgeous pavilion, all on the Riverwalk Park route. The pavilion doubles as a scenic event space with a 2,000 person capacity. While in Fort Lauderdale, you won't want to miss one of the most beautiful waterfront settings.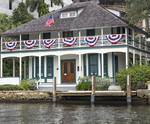 Hop-On Hop-Off at
Hop-On Hop-Off at
Historic Stranahan House Museum
The oldest surviving structure in the area, this historic building was constructed in 1901 as a trading post but was converted to the home of Frank and Ivy Stranahan in 1906. This house is especially significant as Frank Stranahan is attributed with the founding of Fort Lauderdale and Ivy Stranahan was the area's first school teacher. Restored by the Fort Lauderdale Board of Realtors and the Fort Lauderdale Historical Society, The Stranahan Gouse features an amazing wood-frame structure with wide porches and a perfect, breathtaking view of the New River. Guided tours are available for guests who want an intimate experience.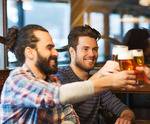 Drive By
Drive By
Historic Downtowner Saloon
This iconic restaurant and pub is located in the heart of downtown and sits just on the bank of the New River. Dating back to the 1920s, guests here will not only get to enjoy a delicious meal but experience a touch of history as well. Here you can enjoy fresh food, craft drinks, live entertainment, and of course an amazing view.
Stops may change due to traffic, weather, maintenance, etc.
For a unique tour of Fort Lauderdale that is sure to fit your family's needs, hop aboard the Venice of America Water Shuttle!