Flagstaff Hotels with an Indoor Pool
Flagstaff Hotels with an Indoor Pool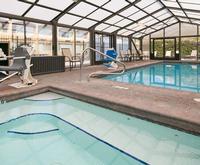 When we're passing through Arizona, we love to stay at the Best Western Pony Soldier Inn & Suites. One of the main reasons we love this inn is because of their indoor heated pool. We're a family of five, and I would much prefer my kids playing in the pool rather than watching TV and playing video games. We also save a lot of money at the inn because they offer a complimentary hot breakfast and free parking. Plus you can get a microwave and a fridge in your room, which is great when we want to prepare our food.
Indoor pool is open from 8 AM to 10 PM daily.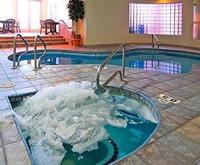 Rating:





The Econo Lodge Lucky Lane Hotel has an indoor pool with a lot of great activities that surround it. The hotel is just minutes away from the Flagstaff Aquaplex and there's plenty of fun things to do with your family. The hotel amenities are a fitness center, an indoor pool, high-speed internet, and free parking. After you and your family have a blast around the city, come relax in your room and enjoy cable tv with pay per view, free local calls, a bar, refrigerator, and there's wake up call services if you need it.
Indoor heated pool and hot tub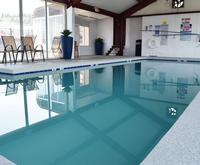 The Super 8 NAU/Downtown Conference Center features a heated indoor pool that is of a large size for guests to enjoy. When each day begins, breakfast is served and includes waffles, eggs, cereals, and biscuits. Guests can get coffee and tea throughout the day. A business center provides guests with access to a computer as well as a printer and copy machine. Fax services are also offered. A laundry room is in the hotel for those who want to wash clothes before leaving. Rooms have been updated to include luxury bedding and toiletries in the bathrooms.
Indoor heated pool and hot tub is open from 9 AM to 10 PM daily.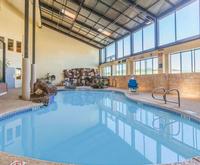 Rating:





The Days Inn Flagstaff is an excellent hotel offering many amenities. The facility is a smoke-free environment. Guests are permitted to smoke within 25-feet of the entrance. Some amenities include an indoor pool, hot tub, complimentary breakfast, fitness center, business center, and more. Guests who require a wheelchair will find the hotel to be accommodating to their needs. The hotel provides those guests needing a crib; there might be a charge for the crib. The room amenities are fantastic. These amenities include a refrigerator, microwave, iron, ironing board, desk with chair, and much more. All guests can enjoy their complimentary newspapers with their breakfast.
Indoor heated pool and hot tub is open from 9 AM to 10 PM daily.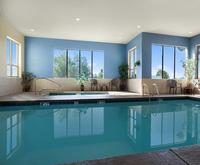 The Days Inn Suites East Flagstaff has the amenities to meet your every need which is an indoor pool so you can take a swim. The hotel amenities free breakfast, free internet, free local calls, and other basic amenities that will accommodate you. Nearby attractions are Grand Canyon and Navajo Indian Reservation, Comprehensive Grand Canyon Tour from Flagstaff, Full Day: Grand Canyon Complete Tour from Flagstaff, and other great attractions. Your room amenities are free WiFi, cable television, fridge, microwave, hairdryer, and coffeemaker.
Indoor pool and hot tub is open from 8 AM to 10 PM daily.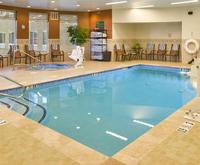 Rating:





If looking for a hotel with an indoor pool, then consider Hilton Garden Inn Flagstaff, located in Flagstaff, Arizona. The hotel offers the indoor pool, free Wi-Fi, paid breakfast buffet, free parking as well as business and fitness centers. There is an on-site restaurant with a bar/lounge. Hotel rooms feature high speed internet, refrigerator, microwave, cable TV with premium channels and iron with ironing board. Attractions located near the hotel include Riordan Mansion, Northern Arizona University, Walkup Skydome and Lowell Observatory. The Grand Canyon and Navajo Indian Reservation is just a mile and a half away.
Indoor pool and hot tub
View all 8 Hotels with Indoor Pool