Destin - Fort Walton Beach Area Hotels with an Outdoor Pool
View all 6 Hotels with Outdoor Pool
Destin - Fort Walton Beach Area Hotels with an Outdoor Pool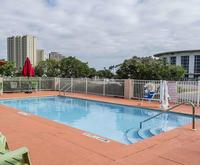 Rating:





The Sleep Inn is your best vacation destination spot in Destin, Florida putting you up close to gorgeous beaches, tons of shopping malls, and fine dining like the Destin Commons. The Sleep Inn will make you feel right at home with its beautiful decor with warm colors, soft comfy beds, and a complimentary breakfast served every morning with muffins, bagels, a juice machine, and coffee maker. You can enjoy other amenities like an outdoor pool, laundry on-site, and a business center. Your room will have a desk and office chair, decorative pictures on the walls, ironing board, microwave, and fridge.
Outdoor pool is open from 10 AM to 10 PM daily.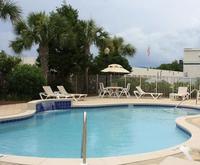 If you're looking for a hotel with an outdoor pool, then the Hampton Inn Suites are just for you because youre on the coastal line along some beautiful beaches. Visiting the Hampton Inn Suites will put you near the main attractions which are Silver Sands Shopping and other entertainment venues. You can shop until you drop and visit the other main attractions that draw many people to the Florida area every year. Your room provides you with an HDTV, free Wifi, free breakfast every morning, and other great accommodates.
Outdoor pool
Fort Walton Beach has a lot of tourist come out every year. However one of the first things mist tourist set up is their hotel so they know they have somewhere safe to go. Wyndham Gardens is a great hotel to stay at. They have wonderful and comfortable rooms, a hot tub and a nice outdoor pool that visitors love to take advantage of. There is also great dining right on the hotel including seafood. There is a wonderful view of the Gulf of Mexico from the hotel. This is a hotel that most would love staying at.
Outdoor pool and hot tub is open from 9 AM to 10 PM daily.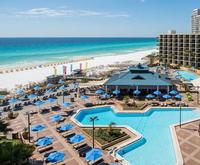 The Hilton Sandestin Beach Golf Resort & Spa offers numerous amenities to make guests feel like they are at home instead of in a hotel. The outdoor pool is large and is designed in a unique shape so that there are multiple areas where chairs can be positioned around the perimeter. While outside, guests can view the palm trees around the pool or enjoy the breeze from the ocean. A grille is located near the pool where guests can get a snack or a drink.
Outdoor pool is open from 9 AM to 11 PM daily.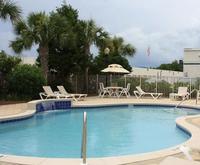 Rating:





The Hampton Inn Fort Walton Beach is near many attractions Ft Walton Beach, Florida, has to offer. There are many amenities at this hotel, including a business owner, an outdoor heated pool, and a free continental hot breakfast for all its guests. Many restaurants are within 1 mile of this hotel. Some attractions near the hotel include the Emerald Coast, Eglin Air Force Base, Helen Back, the High Tide Oyster Bar, and much more. For those guests looking for something to eat, there are many restaurants, including Floyd's Shrimp House. Also, the Olive Garden, the waffle house, and many exclusive restaurants to the Fort Walton Beach area.
Outdoor pool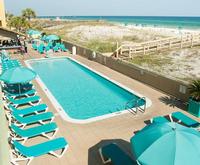 This Best Western hotel can be found along Fort Walton Beach, which puts guests in close distance to the Gulfarium Marine Adventure Park and the Santa Rosa Mall. It is along the beach and offers its guests the use of beach chairs. Some other things guests can partake in are rollaway if needed, refrigerator if needed, outdoor pool, microwave if needed, laundry service, ironing board, iron, in-room coffee maker, free Wi-Fi, golf course, free parking, continental breakfast provided, cable TV, business center, and lounge or bar.
Outdoor pool is open from 9 AM to 10 PM daily.
View all 6 Hotels with Outdoor Pool