Private Boat Charter with Captain in Destin

Description
Private Boat Charter with Captain in Destin Photos (1)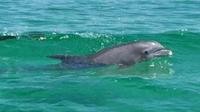 Get ready for your private, personal, charter boat ride out in the glorious waters through the Destin Harbor for a memorable, thrilling sightseeing cruise in the always beautifully sunny waters in the most popular tourist spot, lovely, Florida, with a choice of times and length to enjoy yourself, as you take fun pictures and see a fascinating assortment of sea life.
You'll meet your private captain at the Screaming Eagle Sports Kiosk to begin your adventure in either the morning or afternoon outing of your choice. You can even decide the length of your fascinating outing to be between a brief, convenient one-hour on the waters all the way up to a full day of eight incredible hours and where you go is all up to you and your fellow friends.
What you might see really depends on how keening you are looking out into the incredible waters surrounding you at any particular moment because everything from cute dolphins, vast varieties of shark, the ever present stingray and the popular Turtle-head dipping up and down as they swim along beside you.
Bring along your bathing suit to soak up some of the excellent, bright sunshine, but be cautious and pack some protective sunscreen, too. On your extraordinary boating adventures, in the impressively spectacular Gulf of Mexico water, you'll also want to have your camera ready when you go around places; such as, Crab Island with its history of once being merely a remote sand bar, now a highlight for thousands of visitors each year, filled with a tremendous amount of super activities.
Florida's Destin Harbor boats are happily waiting for you to go on a personalized, private, chartered ride through the delightful waters of the Gulf of Mexico. You'll fall in love with all its beauty and probably the Captain, too, as you will thoroughly appreciate not only the expertise, but all the hilarious and interesting stories you will hear on your boat ride. Be sure, to ask, if you try out the helm, this will be an extra thrill for you!

At either 10am or 4:30pm. meet your professional guide and follow them onto your private boat to begin your charter. Decide where to go and how long you wish to be on the water, and then sail away.

For an hour or up to the whole day, the boat is yours. Ride through the emerald waters of the world famous Destin Harbor, soaking in the sun and the beautiful views from the boat. As your guide sails the boat, be on the lookout for sea life. Cross your fingers for sightings of friendly dolphins. You may even see sharks, sting rays, and loggerhead turtles. Ride into the Gulf of Mexico for more fun and circle around Crab Island.

Enjoy a day on the water in a private boat on this customizable boat charter.

Pickup & Return:
Screaming Eagle Sports Kiosk.

Includes:
Local guide
Sightseeing cruise
Private tour

Does not include:

Additional Information:
Confirmation will be received at time of booking
Children must be accompanied by an adult
A maximum of 14 people per booking
Private Boat Charter with Captain in Destin: 10am Charter - 3 Hour
10am Charter - 3 hour
Private Boat Charter with Captain in Destin: 10am Charter - 4 Hour
10am Charter - 4 Hour
Private Boat Charter with Captain in Destin: 10am Charter - 7 Hour
10am Charter - 7 Hour
Private Boat Charter with Captain in Destin: 10am Charter - 8 Hour
10am Charter - 8 Hour
Private Boat Charter with Captain in Destin: 12pm Charter - 2 Hour
12pm Charter - 2 Hour
Private Boat Charter with Captain in Destin: 12:00pm Private Boat Charter
12:00pm departure