Adventures in Denali National Park, AK

Denali National Park in Alaska is brimming with adventures. Add them to your next vacation in the area for an unforgettable time.
Denali National Park Adventures
Black Diamond Treasure Hunt Excursion includes snacks, breakfast, lunch, dinner, unlimited beer, wine, soft drinks, transportation to and from, and a professional guide, guests are sure to capture many memories in this all ages expedition.
Available 52 days between May 11, 2019 & Jul 31, 2019
View Schedule
If you love going on adventures, try the Wilds of Alaska Classic ATV Adventure, in which you can see the Dry Creek River Bed, Black Diamond Peak and Healy Valley from the passenger or driver seat of a 4WD ATV.
Canyon Run Oar Raft Whitewater Rafting is a "cool" way to experience one of Alaska's rivers; custom-made drysuits are provided to each paddler to ensure the most comfort while enjoying this whitewater adventure.
Available 61 days between Jun 1, 2019 & Jul 31, 2019
View Schedule
The great Alaskan wilderness is home to some of the world's most exciting adventures, not the least of which is this incredible hiking expedition through the beautiful and humbling Denali Wildnerness.
Available 35 days between Sep 21, 2018 & Jul 31, 2019
View Schedule
The wild and untamed state of Alaska is the perfect place for outdoor adventures, and a guided walking tour, such as this one through the Denali National Park, can make a typical expedition into something that will always be remembered.
Available 4 days between Sep 21, 2018 & Sep 24, 2018
View Schedule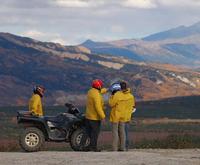 Adventures in the wilderness of the great Alaskan expanse can stay with someone for the rest of their lives, so make the trip worthwhile by embarking on this classic ATV ride, complete with back country dining, in Denali National Park.
Available 31 days between Jul 1, 2019 & Jul 31, 2019
View Schedule
All of the gear is provided that will be needed while rafting, the trip an experience for beginners and experts alike as there are numerous types of rapids to traverse on the river.
Available 31 days between Jul 1, 2019 & Jul 31, 2019
View Schedule
Escape to Alaska and experience the outdoors on an Alaskan Back Country Side by Side Atv Adventure with meal tour and be astounded by natures wonders while riding with your group throughout the scenic back country trails.
Pricing and schedule are currently unavailable.