Dolphin Pedal Boat Rental in Daytona Beach

Description
Dolphin Pedal Boat Rental in Daytona Beach Photos (1)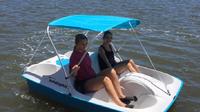 The Dolphin Pedal Boat Rental in Daytona Beach is a great getaway. It is a vacation away from home for couples that are looking to have a relaxing day in Florida. You will travel all around the waters of Daytona Beach and look for the beautiful dolphins that swim by to take a picture. The fact is that dolphins are friendly and love to see tourists.
The dolphin pedal boats come with a seat belt for safety. You have to wear a life jacket and show identification prior to getting in the boat. It is only made for two people. After your activity, you can pedal your way to the Tiki Bar and Grill that is famous the music videos that have been shot there.
On this tour, you will see other sea life that most would see on television. The area is beautiful and great for a couple. If you want to show your fiancée or spouse a great time, you can book this tour and surprise them. You are suggested to bring a waterproof camera for your activity. You don't want to miss an highlights from this activity.
You can schedule your tour through out the day. It is perfect for those who don't want to be in crowds. Your exciting journey will only take up to 3 hours. After that, you head to the beach to play in the sand.
Daytona Beach is filled with fun an excitement for those who want to take an extra trip to celebrate their marriage. This is a great getaway for you and your spouse to relax and enjoy the sun. The food and drinks are available right around the corner from the exhibit. It is suggested that you get ready to have a fun time on your trip in Daytona Beach.
Choose the perfect time to go out on the water. Then, go to the dock of the Hidden Treasure Tiki Bar & Grill, located at 5993 South Ridgewood Avenue. Meet your guide who will show you to the Dolphin Pedal Boat, explain how to be safe while out in Rose Bay, and tell you where to go for the best experience. Venture out on the water to begin your Dolphin Pedal Boat rental.

While on your Dolphin Pedal Boat, enjoy the beautiful and calm backwaters of Rose Bay. Take in fantastic views of the shoreline and look in the water for glimpses of friendly dolphins, gentle manatees, and more sea life. Have an exciting time on the water and make a great memory with this Dolphin Pedal Boat rental.

Pickup & Return:
The dock of the Hidden Treasure Tiki Bar & Grill.

Includes:
Dolphin Pedal Boat
Friendly and accommodating staff

Does not include:

Additional Information:
Confirmation will be received at time of booking
A maximum of 2 people per booking
All passenger weights MUST be advised at time of booking