Daytona Beach, FL Fishing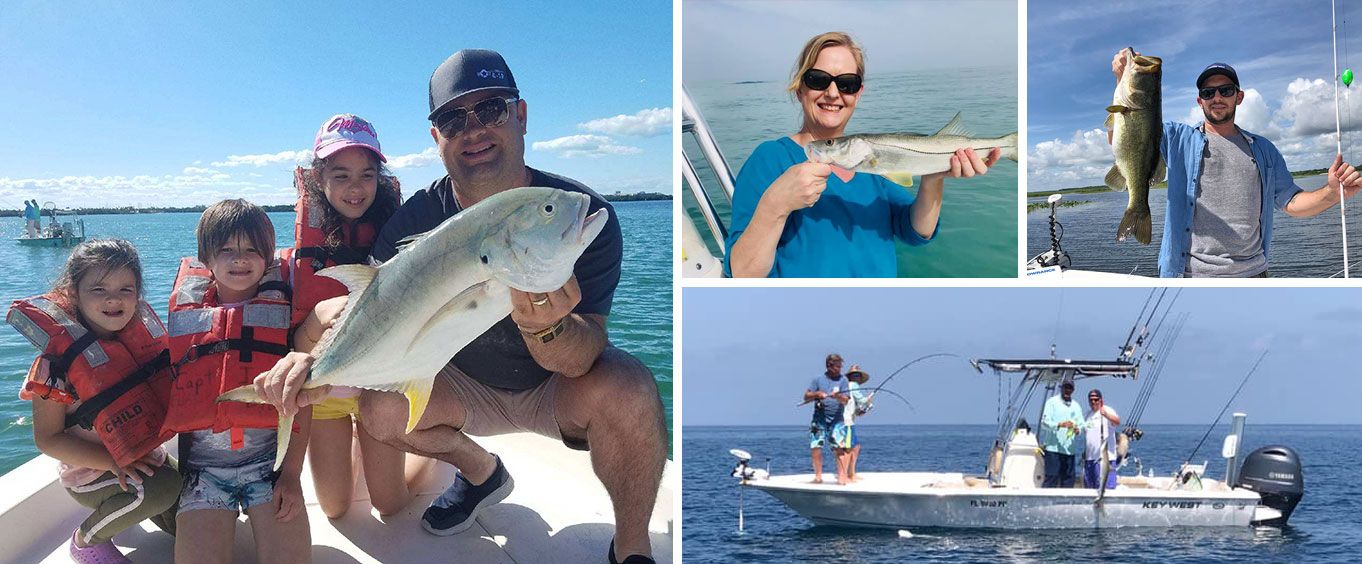 for a fantastic fishing excursion. The waters on the coast are sparkling, warm, and filled with gorgeous fish perfect for the catch of a lifetime. Whether you are a trophy fisherman or simply looking to do it for fun, a trip to Daytona Beach provides a perfect venue for your outdoor excursions.
Some people have been fishing for years and some people still want to fish for the first time. Well from beginners to experts everyone always has fun when there fishing with the Daytona Inshore Fishing Charter. You can catch a huge variety of fish like Trout, Bluefish, Flounder, Spanish Mackerel and so many more. The Daytona Inshore Fishing Charter is for all ages so anybody can join and take pictures with their family for when they make that big catch of the day. You will have access to all the fishing spots along with fishing gear and of course safety gear. Do not miss out on another second of this amazing opportunity for anyone that enjoys the fun of fishing.
Available 357 days between Dec 10 & Nov 30
There is nothing quite as relaxing as fishing. Out on the water enjoying the day and catching fish is quite a wonderful way to spend a day for some people to unwind. Now when tourists choose to enjoy the Fishing - Half Day St Johns River Fishing Trip Near Daytona, they really are in for a fun filled day. Their Captain and guide will take them to some spots that they know will give their passengers the best opportunity to catch some fish like the big mouth bass and other trophy fish. This fishing trip is one that any true fisherman will enjoy and relax in all at the same time.
Available 356 days between Dec 11 & Nov 30
This is your chance to enjoy a wonderful day fishing and having fun with your family, friends, loved ones and everyone else in an area that is known for large sport fish. You get the opportunity of a lifetime to spend your time doing this with someone who is experienced and knowledgeable about the area where you can explore and see what the river has to offer and catch some fish that you could go home and eat. It is a perfect chance for you to get some bonding time with her friends who also love efficient or you could bring your family and let them see nature as it was intended to be experienced. This is an opportunity you will want to explore on the river in Daytona Beach.
Available 357 days between Dec 10 & Nov 30
Dec 10
7:00 AM
7:01 AM
2:00 PM
Dec 11
7:00 AM
7:01 AM
2:00 PM
Dec 12
7:00 AM
7:01 AM
2:00 PM
Dec 13
7:00 AM
7:01 AM
2:00 PM
Dec 14
7:00 AM
7:01 AM
2:00 PM
Dec 15
7:00 AM
7:01 AM
2:00 PM
Dec 16
7:00 AM
7:01 AM
2:00 PM
Dec 17
7:00 AM
7:01 AM
2:00 PM
Dec 18
7:00 AM
7:01 AM
2:00 PM
Dec 19
7:00 AM
7:01 AM
2:00 PM
Dec 20
7:00 AM
7:01 AM
2:00 PM
Dec 21
7:00 AM
7:01 AM
2:00 PM
Dec 22
7:00 AM
7:01 AM
2:00 PM
Dec 23
7:00 AM
7:01 AM
2:00 PM
Dec 24
7:00 AM
7:01 AM
2:00 PM
Dec 25
7:00 AM
7:01 AM
2:00 PM
Dec 26
7:00 AM
7:01 AM
2:00 PM
Dec 27
7:00 AM
7:01 AM
2:00 PM
Dec 28
7:00 AM
7:01 AM
2:00 PM
>