Colorado Springs, Colorado Adventures
Enjoy a wild adventure on your Colorado Springs, Colorado vacation. From ziplining to mountain biking to hiking in the woods, you are bound to find the perfect excursion in our listings below for your vacation.

Colorado Springs Adventures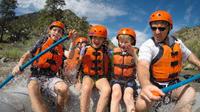 The Bighorn Sheep Canyon Whitewater Experience is a great family friendly adventure, it is an excellent price and you will be led by a professional, local tour guide that will keep you informed on the many places and offer advice.
I love rafting here in Colorado because they have such beautiful rivers and varied degrees of rapids so there is something for everybody and today I am going to raft Brown's Canyon which has pretty views and great water.
Available 78 days between Jul 21, 2018 & May 31, 2019
View Schedule
Paddle through Sunshine Falls on the Royal George as you go through the world's highest suspension bridge- this whitewater run is a thrilling ride for adventure seekers in good health and offers beautiful scenery, thrill and a delicious riverside lunch!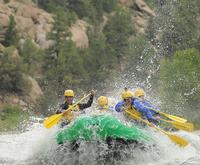 If you enjoy adventures, the Numbers Extreme Whitewater Rafting is a good choice for you, a professional river guide will assist you and keep you informed, you also get breakfast or lunch and free snacks at the end of the trip.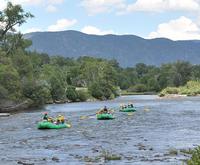 The Arkansas River Dinner Float is an enjoyable way to travel to dinner; the float is fun for the whole family and has a dinner table waiting at the Riverside Bar & Grill which is the destination that all are eager to reach.
Enjoy a full day of Browns Canyon rafting and experience the ultimate adrenaline rush. Hit class-three rapids when you hit the river and learn what whitewater rafting in Colorado is all about.
Rafting in the right gear like a helmet and life jacket make a lot of difference in how a white water trip down through Browns Canyon can start out and end up being a great trip.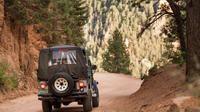 If you love adventures and fun, the Jeep Tour: Foothills & Garden of the Gods is a great choice for you, this tour helps you to enjoy the Pikes Peak region and see some beautiful sights and many different attractions.
Available 164 days between Jul 21, 2018 & Dec 31, 2018
View Schedule