Chicago, IL Walking Tours
Get a great taste of Chicago culture with a walking tour. Visit the greatest parts of this beautiful city on-foot as you journey on one of these tours. Perfect for those wanting to get a true local experience, the tour encompasses everything that makes the Windy City great, and is definitely a great addition to any vacation.

There are walking tours in which you will love that will take you through Chicago with your best friend and tour guide who can explain all of the historical monuments in the city that are documented in the US History books.
Available 26 days between Aug 20, 2018 & Apr 29, 2019
View Schedule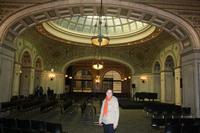 Walking tours are an excellent way to appreciate something at an appropriate speed, which is especially true for this tour of Chicago's awe inspiring interior architecture of the Loop and Pedway.
Available 130 days between Aug 19, 2018 & Dec 30, 2018
View Schedule
There are some foods that are firmly rooted within Chicago food culture; Chicago-style pizza, beer, brownies, and hot dogs are the foods perhaps most iconic of the city and are the stars of a Chicago Food Tour.
Available 56 days between Aug 19, 2018 & Dec 30, 2018
View Schedule
Learn about the city's criminal past on the Chicago Crime and Pizza Walking Tour where you will sample some of the best pizza anywhere while strolling by various famous landmarks and buildings soaking up the history of crime.
Available 19 days between Sep 2, 2018 & Oct 21, 2018
View Schedule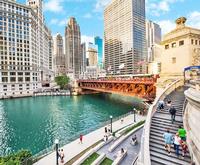 This 90-minute walking tour and 15 minute boat taxi gives the chance to see scenic views, river-walkways, and other relaxed attractions that teaches you about Chicago's history including its iconic skyscrapers and other architectural highlights- begins at 2:00 sharp.
Available 53 days between Aug 19, 2018 & Oct 31, 2018
View Schedule
In the city of Chicago, we are now offering a Historic Chicago Walking Bar Tour, which gives our clients a chance to enjoy the city with a guide, the bar scenes, and have some appetizers all at the same time.
Available 93 days between Aug 19, 2018 & Mar 31, 2019
View Schedule
The Underground Donut Tour is one of the sweetest walking tours in the Chicago area, which allows you to visit four of the best donut shops in the neighborhood, where you can sample and purchase delicious donuts from each location.
Available 57 days between Aug 24, 2018 & Dec 30, 2018
View Schedule
Walking tours are an exciting and informative way to burn calories while enjoying the sites, and this Loop Walking Tour of the Chicago area is no exception, as tourists will keep things moving with their own legs.
Available 104 days between Sep 1, 2018 & Dec 31, 2018
View Schedule