Description
Explore all that the Windy City has to offer with this Hop-On Hop-Off Chicago Trolley Tour.
A knowledgeable guide will narrate along your route that completes a loop around the city, allowing you to get off at a number of spots and explore the area, and then board again to head to another destination. As the guide tells the legendary stories, history, and culture overview of the area, you'll be given an insight to Chicago that most visitors miss out on. Photographers will want to take advantage of the picture opportunities at Sky Deck Chicago, which towers over 1,300 feet above the ground and offers 360-degree views of the city from the top of Willis Tower.
Detailed Tour Itinerary
STOP 1
Hop-On Hop-Off at
Hop-On Hop-Off at
Millennium Park
At this stop, Millennium Park offers a variety of activities for visitors. You can dine beneath the Bean at Park Grill, rent bikes or segways at Bike Chicago, and take a picture of Cloudgate "the Bean" with the skyline and you in its reflection. Make sure to visit the Cultural Center's free galleries, and enjoy 20 perfect off merchandise in the Park Shop.
STOP 2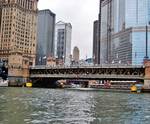 Hop-On Hop-Off at
Hop-On Hop-Off at
Michigan Avenue Bridge
When you hop off at Michigan Avenue Bridge, you can take a stroll, board a boat tour, hail a water taxi, or have some dinner on the Riverwalk. Hike the levels of the drawbridge, finds its friezes and reliefs honoring Fort Dearborn and city history, or stop into the Bridgehouse Museum for "backward" river exhibits and more.
STOP 3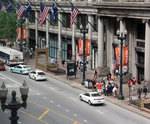 Hop-On Hop-Off at
Hop-On Hop-Off at
Block Thirty-Seven
When you get off at Block Thirty-Seven, you can pick up your free t-shirt at the Explore Store, as well as explore the surrounding area. Visit the iconic Chicago Theatre, view sculptures by Picasso and Miro, and of course, check out Block Thirty-Seven's shopping, as it is the perfect place to shop and dine in the heart of the Loop.
STOP 4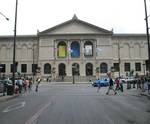 Hop-On Hop-Off at
Hop-On Hop-Off at
Art Institute of Chicago
Revere the Impressionist collection at the Art Institute of Chicago when you hop off at this stop. You can also stroll through Grant Park and take sights of gardens, sculptures, and Lake Michigan, as well as learn at the Architecture Foundation. Make sure to stop by the Symphony Center, where you can enjoy a great meal at Tesori.
STOP 5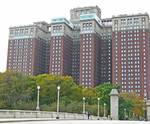 Hop-On Hop-Off at
Hop-On Hop-Off at
Hilton Chicago
Check out the Hilton's ballrooms, mini-museum, and more when you stop to check out the Hilton Chicago. In the area, you can hear blues at Buddy Guy's Legends, watch gloveless 16-inch softball, and head to landmarks like the Fine Arts Building, the Auditorium, and the Blackstone Theatres.
STOP 6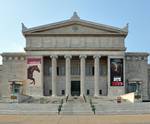 Hop-On Hop-Off at
Hop-On Hop-Off at
Field Museum of Natural History
At this stop, make sure to head in to the Field Museum of Natural History, where you can meet Sue, the largest and most complete T. Rex, as well as mummies, gems, and more. Nearby, take a tour of Soldier Field, spot the ancient Roman column in Gold Star Park, or chow down at Kim and Carlo's stand.
STOP 7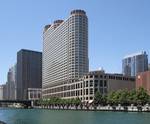 Hop-On Hop-Off at
Hop-On Hop-Off at
Sheraton Chicago Hotel & Towers
Check out the stunning Sheraton Chicago Hotel & Towers, where you can delight in river views. Shop for TV souvenirs, catch a movie at AMC's 21 theaters, or bowl a frame at Lucky Strike lanes. If you're feeling a little artistic, you can observe artists at work, visit five galleries, or even eat lunch in the River East Art Center nearby.
STOP 8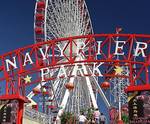 Hop-On Hop-Off at
Hop-On Hop-Off at
Navy Pier
At Navy Pier, you can enjoy Chicago's #1 Attraction, complete with boats, food, an IMAX theater, fireworks, and more. In the area, you can step into the world of Forrest Gump and enjoy lots of shrimp at Bubba Gump Shrimp Co. Ride Seadog's 30-minute speedboat tour, and make sure to grab your free bag of Garrett Popcorn. Plus, you can always relax in Gateway or Olive Parks, on Ohio St. Beach, or the Lakefront Trail.
STOP 9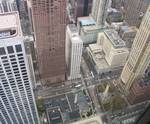 Hop-On Hop-Off at
Hop-On Hop-Off at
Magnificent Mile
Along the Magnificent Mile, you can shop, shop, shop! Buy Cubs stuff, watch WGN Radio live, and grab a cheeseburger at Billy Goat Tavern. Take a break in Plaza of the Americas, and make sure to visit some of the famous buildings like the Wrigley, the Intercontinental, and the new Trump buildings.
STOP 10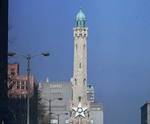 Hop-On Hop-Off at
Hop-On Hop-Off at
Chicago Water Tower
At this stop, you can check out Water Tower Place, the vertical mall, and get dolled up at American Girl Place. Explore art of faith and spirit at Loyola University Museum of Art, examine the Museum of Contemporary Art's collections of paintings, sculpture, and film, and more. Visit the Pumping Station's water exhibit, visitor center, and Lookingglass Theatre. Make sure to receive your free sample treat bag from Candyality.
STOP 11
Hop-On Hop-Off at
Hop-On Hop-Off at
John Hancock Center
Make sure to head to the top of the John Hancock Center to check out the building's observatory, where you can have 360-degree views of beautiful Chicago! Enjoy coffee and more at Espression by Lavazza Cafe, check out the beautiful Presbyterian Church, and shop on Oak Street or soak up the sun on popular Oak Street Beach.
STOP 12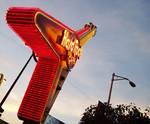 Hop-On Hop-Off at
Hop-On Hop-Off at
Hard Rock Cafe
At the Hard Rock Cafe, you can enjoy legendary American cuisine, memorabilia, and more, or you can head to nearby pizza places, hot dog joints, flagships, or upscale steak houses for a taste of the River North district. Explore your wild side among the flora and waterfalls of Rainforest Cafe, check out Howl at the Moon's dueling piano bar, and browse the legendary Jazz Record Mart.
STOP 13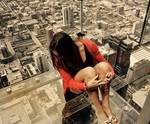 Hop-On Hop-Off at
Hop-On Hop-Off at
Willis Tower
Head to the top of Willis Tower to experience spectacular 360-degree views spanning four states at the Skydeck, and walk out on The Ledge, a 1.5-inch thick glass balcony 1,353 feet over Chicago. Here, you can take in the best views of Chicago!
Stops may change due to traffic, weather, maintenance, etc.
From May 1 to September 30 annually, guests also have access to more stops. In addition to the regular loop, you can also enjoy access to three neighborhood tours and a City Lights Night Tour, all of which depart from Millennium Park.
West Neighborhood Tour (May 1 - Sept 30)
Millennium Park
Chinatown
Little Italy
Greektown
North Neighborhood Tour (May 1 - Sept 30)
Millennium Park
Lincoln Park Zoo
Blue Man Group
Wrigley Field (not on game days)
South Neighborhood Tour (May 1 - Sept 30)
Millennium Park
Museum of Science and Industry
City Lights Night Tour (May 1 - Sept 30)
Millennium Park
Navy Pier
Magnificent Mile
John Hancock Center
Buses will arrive at stops approximately every 20 to 25 minutes, so you won't be waiting long before you're taken to your next destination. This is a convenient, informative, and enjoyable way to see the city of Chicago for all it's worth.
MOST POPULAR THINGS TO DO
IN CHICAGO ILLINOIS