Minivan Tours in Chicago, IL
A minivan tour gives guests the opportunity to relax and unwind while seeing the best of Chicago, IL.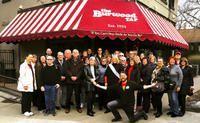 While the idea of minivan tours sounds rather bland at first, there's nothing ordinary about this Night Crimes Tour of the rather colorful history of the Chicago area, which is known for its notorious gangsters during Prohibition.
Available 45 days between Jun 28, 2018 & Nov 23, 2018
View Schedule
Hop on a bus to take a tour of the area where the World's Fair used to be located, viewing some of the statues and benches that are still left while learning about the fate of the fair.
Available 2 days between Jul 22, 2018 & Nov 4, 2018
View Schedule
Pullman National Monument Bus Tour is a 3-hour event, it is in informative, professional guide, snacks and beverages are in the cost of the tour, the tour is wheelchair-accessible, it is a step back in time history tour, it is going to be memorable.
On this minivan tour of Chicago, you will see 30 miles of buildings with amazing architecture with a guide. You will stop at the Loop Chicago's business district, Illinois Institute of Technology, and Robie House designed by Franklin Lloyd Wright on this 3-1/2 hour tour.
Available 4 days between Jun 30, 2018 & Jul 21, 2018
View Schedule