Brewery Tours in Chicago, IL
For those who love local brews and getting out on the town, a brewery tour is bound to be a fantastic choice.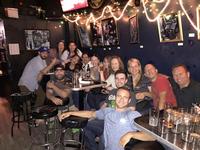 Take a tour of the rich history of brewing beer in Chicago when you book your ticket for the Bacon and Brewing Beer Tour in Lakeview and Lincoln Park. Enjoy mouth-watering samples of some of the finest brew to come out of Chicago.
Available 27 days between Jun 23, 2018 & Dec 29, 2018
View Schedule
Visit one of the older restaurants in Chicago to learn about how beer is made and to sample a few flavors before visiting a blues club to learn about Buddy Guy.
Available 57 days between Jun 21, 2018 & Nov 17, 2018
View Schedule
Learn about the best of Chicago's breweries through this one of a kind brewery tours, stop at multiple breweries to taste the craft beers while learning how they are made and have a dinner of pizza before the tour ends.
Available 84 days between Jun 22, 2018 & Dec 30, 2018
View Schedule
The Pioneers and Pints Beer Tour in Bucktown and Wicker Park takes you on a one mile walk where you will visit bars that date back to the 1800s, eat Chicago styled hot dogs paired with beer, visit a butcher shop that is also a bar, and you will also get to admire the Chicago architecture.
Available 21 days between Jun 23, 2018 & Nov 17, 2018
View Schedule
Brewery tours are fun, but there is no better way to experience one than by a Prohibition era styled barrel bus; you will get to visit three Chicago breweries, enjoy 50 ounces of beer, and get an in depth tour of the breweries.
Available 1 days between Jun 30, 2018 & Jun 30, 2018
View Schedule
The Chicago Craft Brewery Barrel Bus Tour is a one of a kind chance to experience the craft beer scene in Chicago which is a city that is known for its culture and interesting downtown scene making this a stellar event.
Available 7 days between Jun 23, 2018 & Sep 2, 2018
View Schedule