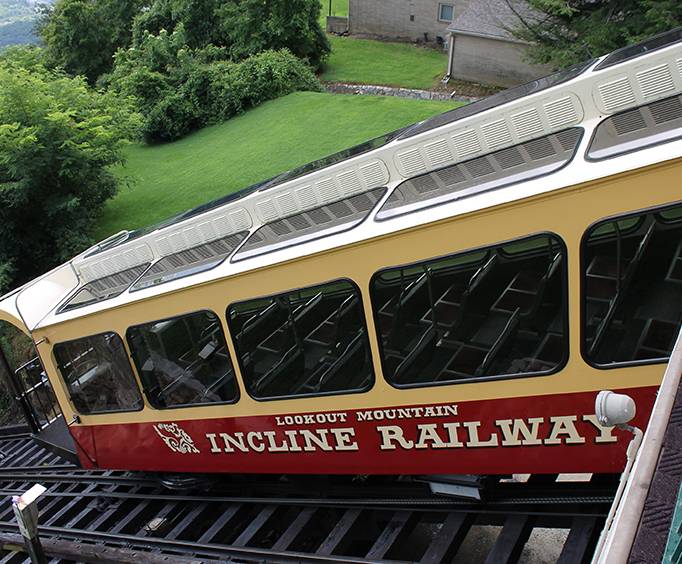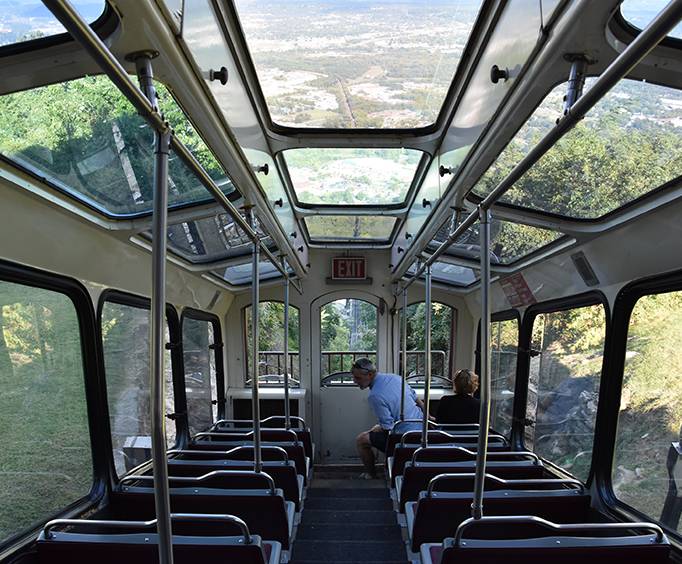 Lookout Mountain Incline Railway in Chattanooga, TN
3917 St Elmo Ave Chattanooga, TN 37409
The world's steepest passenger railway located at
Lookout Mountain
, GA; just minutes from Chattanooga TN. On the way up the mountain, experience amazing panoramic views of the mountains and valleys from the enclosed car loaded with windows. The ride is 15 minutes each way and travels a little less than 10 miles per hour. Don't miss the opportunity to check out the machine room where you can see the giant gears running the incline.
Once you have reached the top, amazing attractions await you; specifically, a short 5-minute walk from the incline railway will be Point Park. Point Park is the pivotal site of the Battle above the clouds in 1863. Chickamauga and Chattanooga National Military Park electric map and museum provide a great learning experience of the war battles and an opportunity to see actual war relics and weapons.
Visiting the Incline Railway is just one of the attractions available to enjoy the entire Lookout Mountain experience. See Lover's Leap, Rock City, Ruby Falls, Fairyland Caverns, Swing along Bridge, Kids' Activities, Zip Stream Aerial Adventure, and Mother Goose Village, all these attractions are sister organizations with the Incline Railway and all within 10 minutes.
With so many wonderful views and fun things to do for all ages, make Out Look Mountain the destination you spend plenty of time taking in the amazing wanders of the area. Each season brings an entirely different array of views, so repeat trips are highly recommended. In order to find out about the wide variety of package options available, be sure to call 800-825-8366 and get up-to-date hours of operation. It's truly the locations you can see for miles and miles.
The following tours visit Lookout Mountain Incline Railway:

For an immersive and fun adventure in Chattanooga, TN embark upon the Chattanooga Hop On Hop Off Trolley Tour.