Hotels with an Indoor Pool in Chattanooga
View all 17 Hotels with Indoor Pool
Chattanooga offers a variety of entertainment, and you can add to it by booking lodging with an indoor pool. An indoor pool guarantees that you always have something fun to do no matter what the weather is like outside. Look through our selection of options, and book online today!
Hotels with an Indoor Pool in Chattanooga

Rating:





Customer Rating:





Nice comfortable and clean rooms. Excellent breakfast selection. Close to Lookout Mountain attractions, far enough away from the busy downtown. Would stay there again.
Brian Ouellette
Columbus, Indiana
Not only is the Chattanooga Downtown/Lookout Moutain near attractions such as the Tennessee Aquarium, but it also features a heated indoor pool, which is perfect for splashing around in after a day of traveling and sightseeing. The large heated indoor pool is big enough for swimming and having fun. Other hotel amenities include a hot breakfast, fitness center, and a complimentary weekday newspaper. The guest rooms are equipped with voice mail, high-speed internet, cable television, coffee maker, iron and ironing board, and an in-room safe.
Indoor heated pool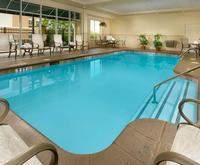 Located less than a mile away from the Hamilton Place Mall, the Hilton Garden Inn Chattanooga/Hamilton Place is a great hotel to stay at whether you're traveling to Chattanooga for business or looking to take your family on a vacation. As you get to the hotel, you can experience many of the different amenities they offer right away including a heated indoor pool and a fitness center when you need to keep working out. Once you eventually head to your hotel room, you'll notice a TV that features free HBO service, a coffeemaker, and more that will make you feel like you're at home.
Indoor pool is open from 6 AM to 10 PM daily.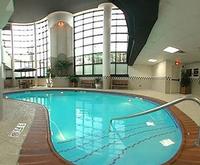 Rating:





Marriott's Hotel makes it possible for you and your family to enjoy an indoor pool all year long. This beautiful hotel has the ideal downtown location, everything is near this hotel and once you have finished your outdoor activities relax in our indoor pool with towel service available. Marriott's indoor pool has a very relaxing environment very inviting perfect for all ages and the best part is that it is open no matter the day or the season. Make your reservation now at Marriott Hotel in Chattanooga, Tennessee.
Indoor heated pool is open from 9 AM to 11 PM daily.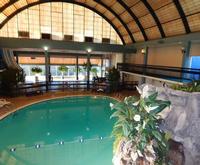 Rating:





Customer Rating:





The Inn was great the people where very friendy.
Vince Beyers
Lehigh Acres, Fl
The Chattanooga Choo Choo Hotel has a refreshing indoor pool that will give you something to look forward to during your vacation. The hotel provides a fitness center, outdoor swimming pool, hotel hot tub, laundry facility, a dry cleaning service, and a selection of meeting rooms for special occasions. You will witness the view of the historic train station and an authentic trolley from 1924 tours. The nearby attractions are The Bank Heist Escape Room in Chattanooga and Chattanooga Cycle Boat River Cruise, and your room provides rooms with coffee, irons and boards, hairdryers, and more.
Indoor heated pool and hot tub is open from 9 AM to 11 PM daily.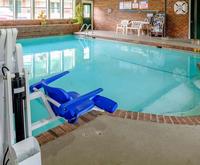 If having an indoor pool is a must when it comes to booking a hotel, there is no need to look any further than the Roof Inn Chattanooga-Lookout Mountain. The indoor pool is large enough for lap swimming or just for having some fun. Other hotel amenities include a complimentary hot breakfast, fitness facility, business center, a complimentary weekday newspaper, and there are laundry facilities onsite. Each guestroom comes with cable television, free internet access, microwave, refrigerator, coffee maker, iron and ironing board.
Indoor pool is open from 8 AM to 10 PM daily.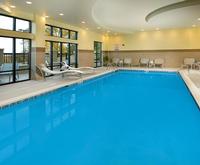 When you go on vacation, it is a great idea to choose a hotel with an indoor pool, free continental breakfast, and close proximity to attractions. To make the choice even easier consider adding a lounge, cafe, arcade, childcare, and so much more. You will have a hard time trying to even leave the hotel to play a round of golf or check out the mall. The best part is you do not have to leave the hotel because they offer anything you could possibly need during your stay.
Indoor heated pool is open from 6 AM to 10 PM daily.
View all 17 Hotels with Indoor Pool