Rock City at Lookout Mountain Attractions
Description
Rock City at Lookout Mountain Attractions Photos (12)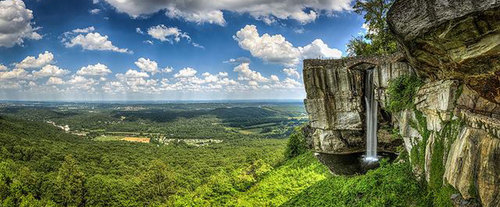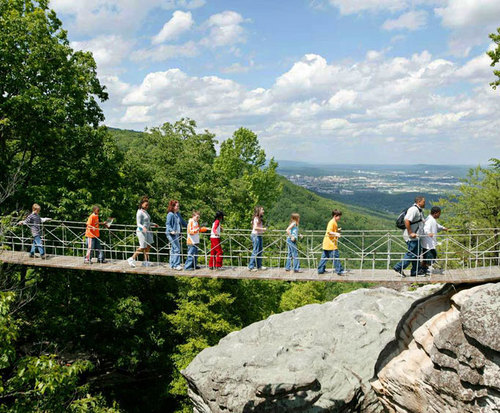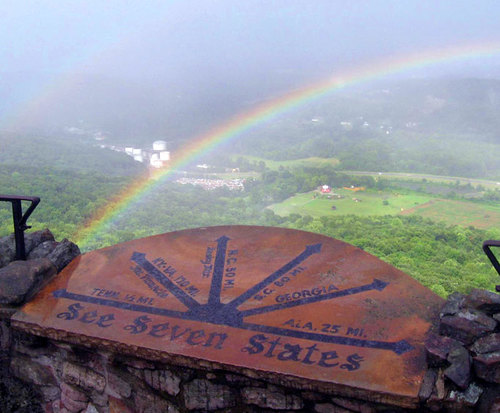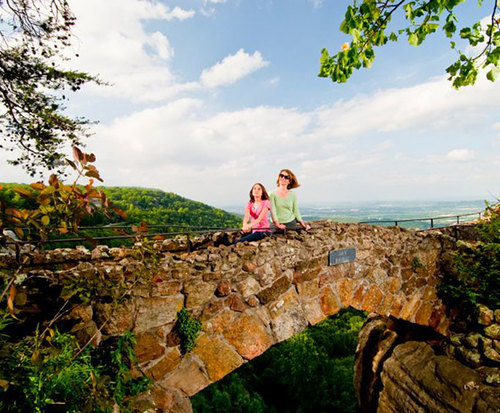 Take in the natural beauty of Chattanooga from 1,700 feet above sea level at Rock City. This massive rock garden is a great place to take your family for some scenic views and miles of rock trails to explore over 700 acres. Rock City is home to High Falls, a 140-foot man-made waterfall that cascades down the mountain, a 200-foot-long Swing-A-Long bridge, along with other beautiful features that you will be able to explore during your visit. Some of the natural features you will find at Rock City include Lover's Leap, Cafe 7 Dining on the terraces of Lover's Leap, live birds of prey shows hosted by the Rock City Raptors, and Fairyland Caverns. You will also see unique and sometimes bizarre formations such as Fat Man's Squeeze and Balanced Rock. Keep an eye out for the numerous gardens that are home to a variety of gnomes and other fairytale characters.
Lover's Leap earned its name from a legend that states that a Chickasaw tribesman named Sautee was in a romantic relationship with a woman named Nacoochee, from the Cherokee tribe. Cherokee warriors captured Sautee and threw him off of Yonah Mountain. Nacoochee, who grieved the loss of her love, leaped over the edge to her own death. It remains a beautiful point to view the High Falls, but also reminds visitors of the despair of Nacoochee.
Rock City Raptors birds of prey shows are hosted seasonally, Thursday through Sunday, and focus on the majesty and hunting skill of multiple species of birds of prey, but will show and talk about other species of birds during the show. The shows were started in 2006, and are included in the admission price to Rock City.
Fairyland Caverns is a walk-through cavern made up of fairytale scenes and characters such as gnomes and fairies, and representations of folklore like Humpty Dumpty, Snow White, and Hansel and Gretel, among others. This walk-through is mostly lit with blacklights, making the scenes and characters glow in the dark.Wear your most comfortable walking shoes and bring your camera to capture and take home the spectacular panoramic sights you will only find at Rock City.
Recommended Attire - Rock City is an outdoor attraction on top of the mountain. The temperature is typically a few degrees cooler than the valley below. It is suggested that you wear appropriate clothing for the weather on the day you visit, as well as supportive and comfortable walking shoes.
About Rock City - Historical evidence tells us that Native Americans inhabited Lookout Mountain at some point, and in 1823 two missionaries sought them out to minister them. One of the missionaries, Daniel Butrick, recalls in a journal entry that he noticed a 'citadel of rocks' atop the mountain, and he noted the sheer size of the boulders that seemed to be arranged 'as to afford streets and lanes'.
The site was already being called Rock City by the time the American Civil War reached the mountain, and during the Battle of Lookout Mountain, both a Confederate and Union soldier noted on separate accounts in their journals that one could see seven states from the summit of the mountain. Rock City didn't become an attraction like it is today until the 20th century, when Garnet Carter imagined developing a residential neighborhood on the top of the mountain. It was going to be called Fairyland, due to his wife Frieda's interest in European folklore. One feature of Fairyland was to be a golf course, but was ultimately built into a miniature golf course to save building time. It is now recognized as the nations first mini-golf course, named Tom Thumb Golf.
Fairyland covered the entirety of Rock City, and Frieda set out to turn the property into a giant rock garden, using string to create winding pathways around and through the boulders, planting wildflowers along the way and setting up gnome and fairy gardens at certain points. Seeing what Frieda had created, Garnet made Rock City a public attraction in 1932.
About Lookout Mountain - The mountain played a pivotal role in the American Civil War; Union forces under the command of William Rosecrans were crippled in one of their greatest defeats by Confederate General Braxton Bragg's soldiers in Chickamauga, that lie in the shadow of Lookout Mountain. The loss was so devastating that a new Union official, Major General Ulysses Grant was called in to take over the men while the Confederate soldiers under Bragg kept an eye on their opponents hiding out in Chattanooga.
Under Grant, a three day battle broke out on the face of Lookout Mountains, spanning from the foothills to just below the top of the mountain. This battle would become known later as the 'Battle Above the Clouds'. Following the Civil War, tourists began to visit the battle sites more and more, but the buggy rides up Lookout Mountain prevented guests from viewing and enjoying the beauty and history on the way up and down the mountain. In 1895, 'The Incline' was build to transport guests up and down the steepest slope of the mountain more easily.
Reviews
4.0 | 2 reviews
sherry servin
Ripley, Tennessee
✓
Verified Traveler
Enjoyed ruby falls and the incline railway. We did not get to go all the way thru rock city due to they were having an event and shut down the area so i basically wasted my money there.
Gary DeLucca
Lacombe, LA
✓
Verified Traveler
We had a great time in chattanoga-lookout mountain and rock coty were fabulous.