Bike Rentals in Chattanooga

Description
Bike Rentals in Chattanooga Photos (1)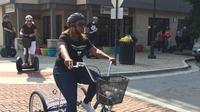 Bike rentals in Chattanooga are a nice way to get around the city, and you must use the bike rentals as a way to travel when you do not want to rent a car or drive intro town. The purpose of the bike rental is to keep your costs down, and you can actually ride them to many places in the city.
The bike rental plan means that you can start in any part of the city, ride to any part of the city, and drop off the bike. It is that simple when you need something to ride, and you must get your whole family in on the plan. You could park your car at the hotel and never use it, and the bikes make this is a bit of a frolic in the city.
The bike rentals are very cheap, and you just pay your deposit in the machine when grabbing the bike. You pay the full fee when dropping off the bikes at the end of the day, and the bikes are simply locked back into place in a new rack.
The bike rental system in the city of Chattanooga makes it easier for you to get around this river town which was made to be as accessible as possible. You could ride all day if you wanted, and you can check out the bike rental points on a map before leaving home.
Try the bike rentals every day because they make it very easy to get around this town. You probably had no idea that you could do this, but it is much easier than driving your car all day every day.
Meet us at our shop at 204 Walnut St and Choose between a half-day or full-day Bike Rental. This is a great way to pedal through Chattanooga and visit all the attractions this wonderful city has to offer on your own and really customize what you want to see. Along your Journey you will see exciting locations that make Chattanooga unique such as the Dome Building, Tivoli Theatre, Ross's Landing, which is a newly renovated park across from the Tennessee Aquarium featuring a river pier, marina, natural amphitheatre.

Hop on a bike and enjoy a self-guided tour through historic Chattanooga such as warehouse Row, Chattanooga Choo-Choo Historic Hotel. You will see what makes Downtown Chattanooga one of America's best cities!

Pickup & Return:
Chattanooga Segway & Bike.
204 Walnut St,
Chattanooga TN, 37403.
Departure Times: Full Day Rental - 9:00am

Half Day Rental - 9:00am, 1:00pm & 6:00pm

Includes:
All taxes, fees and handling charges

Does not include:

Additional Information:
Confirmation will be received at time of booking
Dress code is smart casual