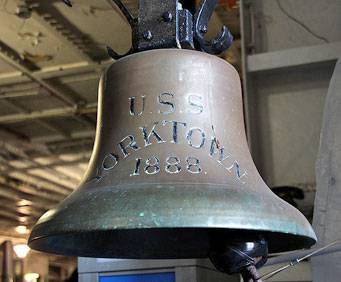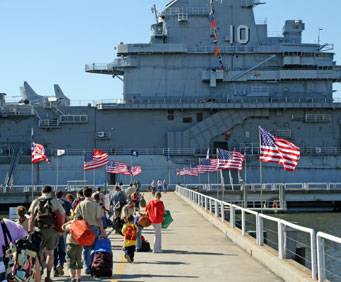 USS Yorktown at Patriots Point Naval & Maritime Museum in Charleston, SC
40 Patriots Point Road Mount Pleasant, SC 29464-4377





(
5.0
)
Based on

3

reviews ↓
Celebrate the successes and trials of some of America's finest - and most harrowing - moments at the Patriots Point Naval & Maritime Museum.
The highlight of the museum is the "Fighting Lady" herself, the USS Yorktown. This mighty vessel played an integral role in the Pacific campaign of World War II, and also houses the Congressional Medal of Honor Society museum. Visitors will discover the Destroyer Laffey - "The Ship That Wouldn't Die" - next to the USS Yorktown. Other ships at the museum include the Cold War submarine Clamagore and the Coast Guard Cutter Ingham.

The museum also features 25 planes, jets, and helicopters, including F-9 Cougar - one of the original Blue Angels - and the F-14 Tomcat. Other highlights include a flight simulator, a Vietnam Naval Support Base complete with an actual River Patrol Boat, weaponry & combat centers, Army Huey helicopters that took fire in Vietnam, and a Sea Cobra attack helicopter. The museum tells the story of Vietnam & other U.S. military campaigns and veterans with great pride and honor.
The following tours go by USS Yorktown at Patriots Point Naval & Maritime Museum in Charleston, SC: