Charleston Hotels with an Outdoor Pool
View all 28 Hotels with Outdoor Pool
Charleston Hotels with an Outdoor Pool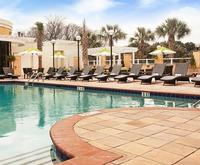 Rating:





Customer Rating:





The hotel was nice but we had to walk through a lot of construction as they were remodeling.
Laurin Galeazzo
Charlotte, NC
When it comes to a hotel with an outdoor pool, the Charleston Marriott offers convenient location and comfortable rooms. The hotel is within easy driving distance of a variety of area attractions; among them is the popular South Carolina Aquarium, which is home to more than 10,000 animals and offers visitors the chance to interact with a variety of them. Guests at the hotel enjoy comfortable, air conditioned rooms with flat screen TVs, mini fridges, tea and coffeemakers, and WiFi access; upgraded rooms add access to the club lounge. Hotel amenities include hot tub, rooftop bar, and more.
Outdoor pool and hot tub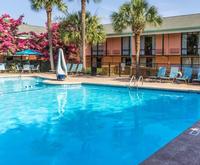 Rating:





Customer Rating:





Very dog-friendly, great breakfast, great staff, very nice pool area, beautiful landscaping. Just 5 min from downtown.
Frederick Stritch
Seymour, TN
The Best Western Sweetgrass Inn located in Charleston, South Carolina and it's a wonderful vacation spot if you're looking for an outdoor pool because it has a large deck where you can relax in the sun. This hotel offers great amenities which are free breakfast with bread, cereal, fruit, juice, and coffee. You're also minutes away from Fort Sumter, Historic Charleston, and the South Carolina Aquarium. All rooms have flat-screen TVs with cable, microwave, refrigerator, iron with ironing board, free local phone calls, high-speed internet, coffee maker, and other great features that will make your stay enjoyable.
Outdoor pool is open from 10 AM to 10 PM daily.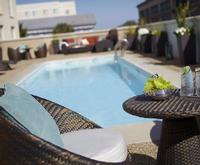 The Renaissance Charles Historic District Hotel is a charming boutique hotel that combines contemporary décor with an old-world style. Located in Charleston, South Carolina, this luxury hotel provides several amenities such as a business center, dry cleaning, valet, Hi-Speed Intenet, cable TV, housekeeping, and a concierge. The hotel offers a fitness center, but guests that desire a more varied workout can visit the Blue Fish Fitness Club or enjoy a swim at the hotel's outdoor pool. Hotel guests have the option of enjoying entrees at the hotel's Wentworth Grill restaurant and drink's at Wentworth Day/Night bar. Conveniently located three blocks away from the hotel are several shops, galleries, King Street Antiques, and the City Market.
Outdoor pool is open from 10 AM to 10 PM daily.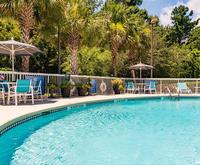 Rating:





An outdoor pool is always a favorite among guests and the outdoor pool at the Holiday Inn Express Charleston will become the place to relax while staying in Charleston. The large outdoor pool is surrounded by plenty of seating and lovely scenery. Other amenities include a hot complimentary breakfast, complimentary newspaper, a fitness center, a business center, and onsite laundry services. The guest rooms have internet access, coffee maker, microwave, small refrigerator, and internet access. Attractions within a short drive of the hotel include the South Carolina Aquarium, The Charleston Historic District, and the Tanger Outlet Mall.
Outdoor pool is open from 10 AM to 10 PM daily.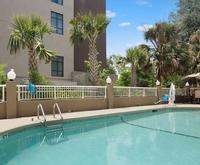 Rating:





Customer Rating:





When guests stay at the Best Western Patriots Point, they can enjoy swimming in the seasonal outdoor pool. The pool is surrounded by a fence and a concrete partition that separates it from the rest of the hotel. Tables are set up in the corners around the pool and feature umbrellas as a way to provide shade for those who don't want to get in the water or sit in the direct sunlight. Remodeled rooms feature microwaves and refrigerators as well as free Wi-Fi and cable television.
Outdoor pool is open from 9 AM to 10 PM daily.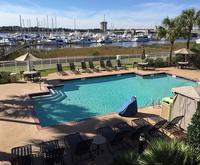 Rating:





Customer Rating:





The Courtyard Charleston Waterfront by Marriott, located in Charleston, South Carolina, is a great place to stay when looking for a hotel with an outdoor pool. The hotel features an onsite restaurant, lounge, free parking, a business center, a fitness center and a gift shop. The rooms offer guests free Wi-Fi, cable TV, coffee maker, microwave and refrigerator. The hotel is located within 1.5 miles of historic downtown Charleston and local attractions. Nearby attractions and restaurants include South Carolina Aquarium, Patriots Point, the Saffire Grill, California Dreaming Restaurant and Carolina's. Kiawah Island and Folly Beach are just a short drive for golf enthusiasts.
Outdoor pool
View all 28 Hotels with Outdoor Pool