Charleston Hotels with an Indoor Pool
View all 5 Hotels with Indoor Pool
Enjoy the luxury of an indoor pool on your next vacation in Charleston, SC. An indoor pool provides the perfect recreation no matter what time of year you visit or what the weather is like outside. You will be glad you chose one of these options with an indoor pool, so book reservations online today!
Charleston Hotels with an Indoor Pool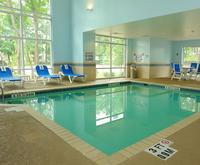 Rating:





Customer Rating:





I was very pleased that the room was spacious and luxurious. A very friendly staff catered to our every need.
Cynthia Merchant
Powhatan, Virginia
The Comfort Suites West of the Ashley is an accommodating hotel in Charleston, South Carolina. It offers a hot breakfast for all of its guests. For those guests who are in a rush, the hotel provides a grab-and-go breakfast bag. The hotel is near many excellent restaurants and nightclubs in Charleston, South Carolina. The rooms are spacious. Guests will be amazed at how close they are all of Charleston, South Carolina's main attractions. These attractions include The Magnolia Plantation and Gardens. The hotel features an indoor pool and high-speed Internet. When booking a room at this hotel, guests can be confident they are not far from the Charleston International Airport.
Indoor heated pool is open from 7 AM to 11 PM daily.

Rating:





Customer Rating:





The hotel was very clean. and the continetial brekafast was great
Kelechi Benet
Virginia Beach, Virginia
The heated indoor pool at the Best Western Inn & Suites North Charleston is one that has a rectangular design and that is surrounded by chairs of different styles for guests to enjoy when they aren't in the water. A fitness center includes treadmills and stationary bikes for those who want to exercise. Free Wi-Fi and cable television are provided in all of the rooms. Guests also have access to a microwave and refrigerator in each room. Some rooms are designed as suites with a full kitchen and living area.
Indoor heated pool is open from 6 AM to 10 PM daily.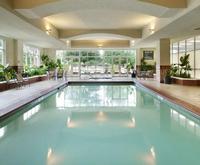 Located miles away from famous attractions such as the South Carolina Center for Birds of Prey and the Charleston Historic District, the Embassy Suites North Charleston is a hotel built for anyone traveling to the area. Families can have fun at the hotel through video rentals that distract kids when you need to get work done and an indoor pool so that you can take a few laps even during the cold times of the year. Business travelers will be pleased with the free copy of USA Today and continental breakfast so that you can get ready for your daily work.
Indoor heated pool and hot tub is open from 8 AM to 10 PM daily.
Looking to enjoy a large indoor pool? Look no further than the Residence Inn by Marriott Charleston Downtown/Riverview, which features a large indoor pool set in a beautiful setting of white pillars, lighting, and plenty of lounge chairs. The hotel also has an outdoor pool, hot tub, fitness center, and a hot complimentary breakfast. Guest rooms are equipped with separate dining and living spaces, fully equipped kitchen, internet access, and cable television. The hotel is located within a few miles of shopping, restaurants, and the Historic District.
Outdoor heated pool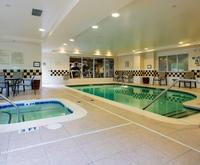 Rating:





Customer Rating:





The Hilton Garden Inn Charleston Airport features a heated indoor pool that guests can swim in all year. There is a division between the fitness room and the pool area so that guests can easily venture between the two rooms depending on how they want to stay active. The hotel provides transportation to and from the airport and to a few of the attractions that are in the city. Guests can get breakfast each morning from the grill that is inside the hotel before enjoying free cable television in the rooms, exploring the property, or traveling in the city.
Indoor heated pool and hot tub is open from 7 AM to 10 PM daily.
View all 5 Hotels with Indoor Pool