Contact Us
1-800-717-9964
Charleston's Old South Carriage Historic Tour 2019 Schedule


Romantic experience, perfect for couples

Family friendly

Treat a loved one on a special occasion

Duration: 60 minutes

Tour lasts Approximately 1 hour.

Appropriate for All Ages

Both Cameras and Video Cameras are Permitted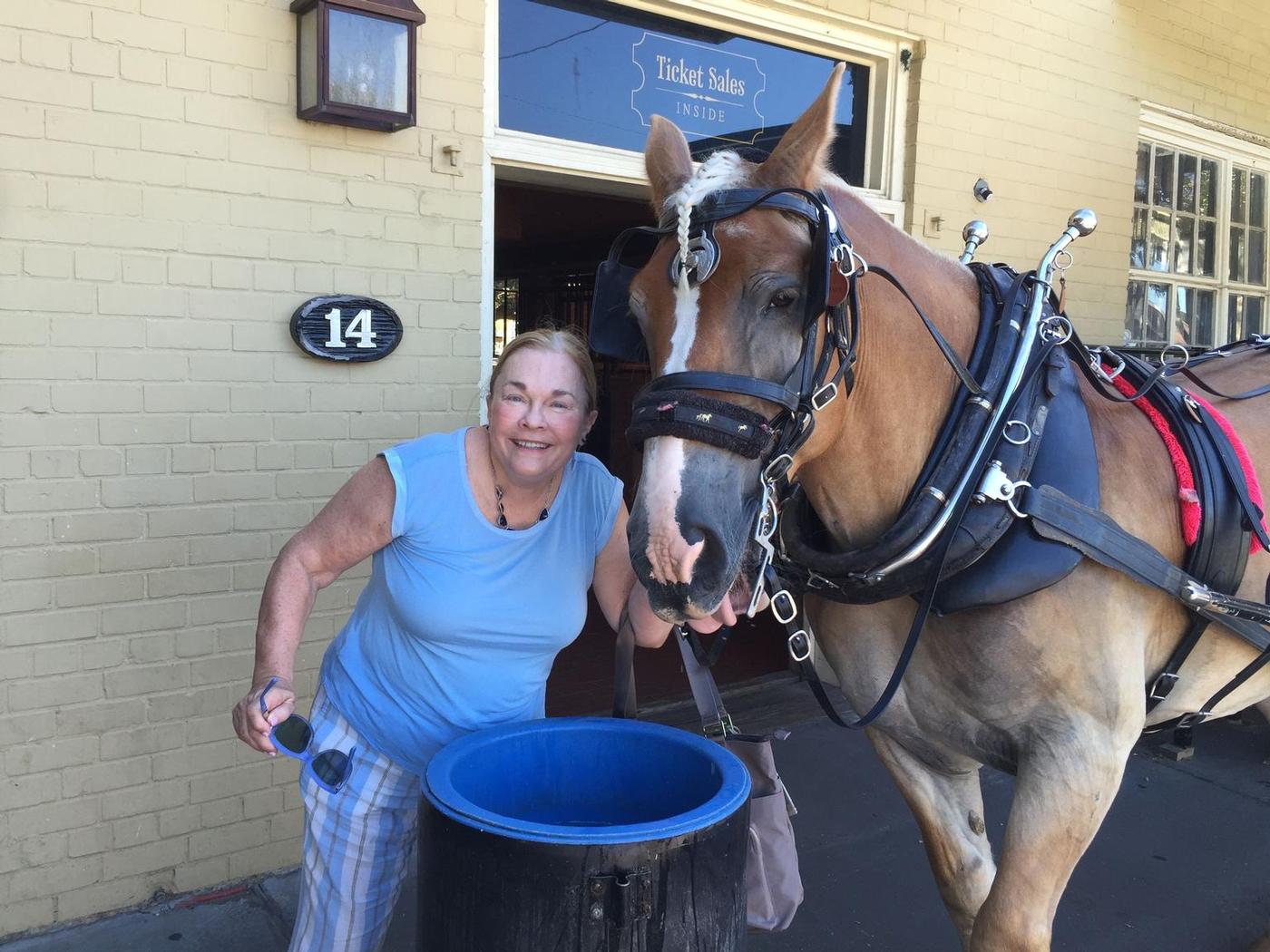 Guests visiting the Charleston have the opportunity to tour the historic district in a unique way. This family-friendly guided tour is done by horse and carriage. The tour lasts approximately an hour and will give the guests the full history of the area. The tour has flexible scheduling to fit the busiest of vacationing schedules. By the end of the tour, guests will know the ways Charleston shaped American history.
Charleston's Old South Carriage Historic Tour Schedule
Charleston's Old South Carriage Historic Tour: 9:00 09:00

Charleston's Old South Carriage Historic Tour: 9:30 09:30

Charleston's Old South Carriage Historic Tour: 10:00 10:00

Charleston's Old South Carriage Historic Tour: 10:30 10:30

Charleston's Old South Carriage Historic Tour: 11:00 11:00

Charleston's Old South Carriage Historic Tour: 11:30 11:30

Charleston's Old South Carriage Historic Tour: 12:00 12:00

Charleston's Old South Carriage Historic Tour: 12:30 12:30

Charleston's Old South Carriage Historic Tour: 1:00 13:00

Charleston's Old South Carriage Historic Tour: 1:30 13:30

Charleston's Old South Carriage Historic Tour: 2:00 14:00

Charleston's Old South Carriage Historic Tour: 2:30 14:30

Charleston's Old South Carriage Historic Tour: 3:00 15:00

Charleston's Old South Carriage Historic Tour: 3:30 15:30

Charleston's Old South Carriage Historic Tour: 4:00 16:00

Charleston's Old South Carriage Historic Tour: 9:20 09:20

Charleston's Old South Carriage Historic Tour: 9:40 09:40

Charleston's Old South Carriage Historic Tour: 10:20 10:20

Charleston's Old South Carriage Historic Tour: 10:40 10:40

Charleston's Old South Carriage Historic Tour: 11:20 11:20

Charleston's Old South Carriage Historic Tour: 11:40 11:40

Charleston's Old South Carriage Historic Tour: 12:20 12:20

Charleston's Old South Carriage Historic Tour: 12:40 12:40

Charleston's Old South Carriage Historic Tour: 1:20 13:20

Charleston's Old South Carriage Historic Tour: 1:40 13:40

Charleston's Old South Carriage Historic Tour: 2:20 14:20

Charleston's Old South Carriage Historic Tour: 2:40 14:40

Charleston's Old South Carriage Historic Tour: 3:20 15:20

Charleston's Old South Carriage Historic Tour: 3:40 15:40

Charleston's Old South Carriage Historic Tour: 4:20 16:20

Charleston's Old South Carriage Historic Tour: 4:40 16:40

Charleston's Old South Carriage Historic Tour: 5:00 17:00

Charleston's Old South Carriage Historic Tour: 4:30 16:30

Charleston's Old South Carriage Historic Tour: 9:00

Charleston's Old South Carriage Historic Tour: 9:30

Charleston's Old South Carriage Historic Tour: 10:00

Charleston's Old South Carriage Historic Tour: 10:30

Charleston's Old South Carriage Historic Tour: 11:00

Charleston's Old South Carriage Historic Tour: 11:30

Charleston's Old South Carriage Historic Tour: 12:00

Charleston's Old South Carriage Historic Tour: 12:30

Charleston's Old South Carriage Historic Tour: 1:00

Charleston's Old South Carriage Historic Tour: 1:30

Charleston's Old South Carriage Historic Tour: 2:00

Charleston's Old South Carriage Historic Tour: 2:30

Charleston's Old South Carriage Historic Tour: 3:00

Charleston's Old South Carriage Historic Tour: 3:30

Charleston's Old South Carriage Historic Tour: 4:00

Charleston's Old South Carriage Historic Tour: 9:20

Charleston's Old South Carriage Historic Tour: 9:40

Charleston's Old South Carriage Historic Tour: 10:20

Charleston's Old South Carriage Historic Tour: 10:40

Charleston's Old South Carriage Historic Tour: 11:20

Charleston's Old South Carriage Historic Tour: 11:40

Charleston's Old South Carriage Historic Tour: 12:20

Charleston's Old South Carriage Historic Tour: 12:40

Charleston's Old South Carriage Historic Tour: 1:20

Charleston's Old South Carriage Historic Tour: 1:40

Charleston's Old South Carriage Historic Tour: 2:20

Charleston's Old South Carriage Historic Tour: 2:40

Charleston's Old South Carriage Historic Tour: 3:20

Charleston's Old South Carriage Historic Tour: 3:40

Charleston's Old South Carriage Historic Tour: 4:20

Charleston's Old South Carriage Historic Tour: 4:40

Charleston's Old South Carriage Historic Tour: 5:00

Charleston's Old South Carriage Historic Tour: 4:30

Date / Day
Available Times
Available Times
Available Times
Available Times
Available Times
Available Times
Available Times
Available Times
Available Times
Available Times
Available Times
Available Times
Available Times
Available Times
Available Times
Available Times
Available Times
Available Times
Available Times
Available Times
Available Times
Available Times
Available Times
Available Times
Available Times
Available Times
Available Times
Available Times
Available Times
Available Times
Available Times
Available Times
Available Times
Available Times
Available Times
Available Times
Available Times
Available Times
Available Times
Available Times
Available Times
Available Times
Available Times
Available Times
Available Times
Available Times
Available Times
Available Times
Available Times
Available Times
Available Times
Available Times
Available Times
Available Times
Available Times
Available Times
Available Times
Available Times
Available Times
Available Times
Available Times
Available Times
Available Times
Available Times
Available Times
Available Times
May 25
Saturday

N/A Sold Out

N/A Sold Out

N/A Sold Out

N/A Sold Out

N/A Sold Out

N/A Sold Out

N/A Sold Out

N/A Sold Out

N/A Sold Out

N/A Sold Out

N/A Sold Out

N/A Sold Out

N/A Sold Out

N/A Sold Out

N/A Sold Out

N/A Sold Out

N/A Sold Out

N/A Sold Out

N/A Sold Out

N/A Sold Out

N/A Sold Out

N/A Sold Out

N/A Sold Out

N/A Sold Out

N/A Sold Out

N/A Sold Out

N/A Sold Out

N/A Sold Out

N/A Sold Out

N/A Sold Out

N/A Sold Out

N/A Sold Out

May 26
Sunday

N/A Sold Out

N/A Sold Out

N/A Sold Out

N/A Sold Out

N/A Sold Out

N/A Sold Out

N/A Sold Out

N/A Sold Out

N/A Sold Out

N/A Sold Out

N/A Sold Out

N/A Sold Out

N/A Sold Out

N/A Sold Out

N/A Sold Out

N/A Sold Out

N/A Sold Out

N/A Sold Out

N/A Sold Out

N/A Sold Out

N/A Sold Out

N/A Sold Out

N/A Sold Out

N/A Sold Out

N/A Sold Out

N/A Sold Out

N/A Sold Out

N/A Sold Out

N/A Sold Out

N/A Sold Out

N/A Sold Out

N/A Sold Out

N/A Sold Out

May 27
Monday

N/A Sold Out

N/A Sold Out

N/A Sold Out

N/A Sold Out

N/A Sold Out

N/A Sold Out

N/A Sold Out

N/A Sold Out

N/A Sold Out

N/A Sold Out

N/A Sold Out

N/A Sold Out

N/A Sold Out

N/A Sold Out

N/A Sold Out

N/A Sold Out

N/A Sold Out

N/A Sold Out

N/A Sold Out

N/A Sold Out

N/A Sold Out

N/A Sold Out

N/A Sold Out

N/A Sold Out

N/A Sold Out

N/A Sold Out

N/A Sold Out

N/A Sold Out

N/A Sold Out

N/A Sold Out

N/A Sold Out

N/A Sold Out

May 28
Tuesday

N/A Sold Out

N/A Sold Out

N/A Sold Out

N/A Sold Out

N/A Sold Out

N/A Sold Out

N/A Sold Out

N/A Sold Out

N/A Sold Out

N/A Sold Out

N/A Sold Out

N/A Sold Out

N/A Sold Out

N/A Sold Out

N/A Sold Out

N/A Sold Out

N/A Sold Out

N/A Sold Out

N/A Sold Out

N/A Sold Out

N/A Sold Out

N/A Sold Out

N/A Sold Out

N/A Sold Out

N/A Sold Out

N/A Sold Out

N/A Sold Out

N/A Sold Out

N/A Sold Out

N/A Sold Out

N/A Sold Out

N/A Sold Out

N/A Sold Out

May 29
Wednesday

N/A Sold Out

N/A Sold Out

N/A Sold Out

N/A Sold Out

N/A Sold Out

N/A Sold Out

N/A Sold Out

N/A Sold Out

N/A Sold Out

N/A Sold Out

N/A Sold Out

N/A Sold Out

N/A Sold Out

N/A Sold Out

N/A Sold Out

N/A Sold Out

N/A Sold Out

N/A Sold Out

May 30
Thursday

N/A Sold Out

N/A Sold Out

N/A Sold Out

N/A Sold Out

N/A Sold Out

N/A Sold Out

N/A Sold Out

N/A Sold Out

N/A Sold Out

N/A Sold Out

N/A Sold Out

N/A Sold Out

N/A Sold Out

N/A Sold Out

N/A Sold Out

N/A Sold Out

May 31
Friday

N/A Sold Out

N/A Sold Out

N/A Sold Out

N/A Sold Out

N/A Sold Out

N/A Sold Out

N/A Sold Out

N/A Sold Out

N/A Sold Out

N/A Sold Out

N/A Sold Out

N/A Sold Out

N/A Sold Out

N/A Sold Out

N/A Sold Out

N/A Sold Out

Jun 1
Saturday

N/A Sold Out

N/A Sold Out

N/A Sold Out

N/A Sold Out

N/A Sold Out

N/A Sold Out

N/A Sold Out

N/A Sold Out

N/A Sold Out

N/A Sold Out

N/A Sold Out

N/A Sold Out

N/A Sold Out

N/A Sold Out

N/A Sold Out

N/A Sold Out

Jun 2
Sunday

N/A Sold Out

N/A Sold Out

N/A Sold Out

N/A Sold Out

N/A Sold Out

N/A Sold Out

N/A Sold Out

N/A Sold Out

N/A Sold Out

N/A Sold Out

N/A Sold Out

N/A Sold Out

N/A Sold Out

N/A Sold Out

N/A Sold Out

N/A Sold Out

Jun 3
Monday

N/A Sold Out

N/A Sold Out

N/A Sold Out

N/A Sold Out

N/A Sold Out

N/A Sold Out

N/A Sold Out

N/A Sold Out

N/A Sold Out

N/A Sold Out

N/A Sold Out

N/A Sold Out

N/A Sold Out

N/A Sold Out

N/A Sold Out

N/A Sold Out

Jun 4
Tuesday

N/A Sold Out

N/A Sold Out

N/A Sold Out

N/A Sold Out

N/A Sold Out

N/A Sold Out

N/A Sold Out

N/A Sold Out

N/A Sold Out

N/A Sold Out

N/A Sold Out

N/A Sold Out

N/A Sold Out

N/A Sold Out

N/A Sold Out

N/A Sold Out

Jun 5
Wednesday

N/A Sold Out

N/A Sold Out

N/A Sold Out

N/A Sold Out

N/A Sold Out

N/A Sold Out

N/A Sold Out

N/A Sold Out

N/A Sold Out

N/A Sold Out

N/A Sold Out

N/A Sold Out

N/A Sold Out

N/A Sold Out

N/A Sold Out

N/A Sold Out

Jun 6
Thursday

N/A Sold Out

N/A Sold Out

N/A Sold Out

N/A Sold Out

N/A Sold Out

N/A Sold Out

N/A Sold Out

N/A Sold Out

N/A Sold Out

N/A Sold Out

N/A Sold Out

N/A Sold Out

N/A Sold Out

N/A Sold Out

N/A Sold Out

N/A Sold Out

N/A Sold Out

N/A Sold Out

Jun 7
Friday

N/A Sold Out

N/A Sold Out

N/A Sold Out

N/A Sold Out

N/A Sold Out

N/A Sold Out

N/A Sold Out

N/A Sold Out

N/A Sold Out

N/A Sold Out

N/A Sold Out

N/A Sold Out

N/A Sold Out

N/A Sold Out

N/A Sold Out

N/A Sold Out

Jun 8
Saturday

N/A Sold Out

N/A Sold Out

N/A Sold Out

N/A Sold Out

N/A Sold Out

N/A Sold Out

N/A Sold Out

N/A Sold Out

N/A Sold Out

N/A Sold Out

N/A Sold Out

N/A Sold Out

N/A Sold Out

N/A Sold Out

N/A Sold Out

N/A Sold Out

Jun 9
Sunday

N/A Sold Out

N/A Sold Out

N/A Sold Out

N/A Sold Out

N/A Sold Out

N/A Sold Out

N/A Sold Out

N/A Sold Out

N/A Sold Out

N/A Sold Out

N/A Sold Out

N/A Sold Out

N/A Sold Out

N/A Sold Out

N/A Sold Out

N/A Sold Out

Jun 10
Monday

N/A Sold Out

N/A Sold Out

N/A Sold Out

N/A Sold Out

N/A Sold Out

N/A Sold Out

N/A Sold Out

N/A Sold Out

N/A Sold Out

N/A Sold Out

N/A Sold Out

N/A Sold Out

N/A Sold Out

N/A Sold Out

N/A Sold Out

N/A Sold Out

Jun 11
Tuesday

N/A Sold Out

N/A Sold Out

N/A Sold Out

N/A Sold Out

N/A Sold Out

N/A Sold Out

N/A Sold Out

N/A Sold Out

N/A Sold Out

N/A Sold Out

N/A Sold Out

N/A Sold Out

N/A Sold Out

N/A Sold Out

N/A Sold Out

N/A Sold Out

Jun 12
Wednesday

N/A Sold Out

N/A Sold Out

N/A Sold Out

N/A Sold Out

N/A Sold Out

N/A Sold Out

N/A Sold Out

N/A Sold Out

N/A Sold Out

N/A Sold Out

N/A Sold Out

N/A Sold Out

N/A Sold Out

N/A Sold Out

N/A Sold Out

N/A Sold Out

Jun 13
Thursday

N/A Sold Out

N/A Sold Out

N/A Sold Out

N/A Sold Out

N/A Sold Out

N/A Sold Out

N/A Sold Out

N/A Sold Out

N/A Sold Out

N/A Sold Out

N/A Sold Out

N/A Sold Out

N/A Sold Out

N/A Sold Out

N/A Sold Out