Historic Charleston Tour

375 Meeting Street Charleston, SC 29403
1-800-717-9964
Description
Explore the historic city of Charleston and make sure to bring a camera and extra memory to capture the numerous historic homes, markets, and narrow cobblestone streets that await you on this amazing city tour! Be welcomed aboard a 20-25 passenger mini-bus designed to navigate the tiny streets of downtown by a licensed and professional tour guide that will keep you entertained and informed with fun facts, historical trivia, and intriguing tidbits. Learn why the cupolas on top of some houses were commonly called 'widow-walks', along with numerous other interesting stories you'll hear along the way! You will be learning the extent of Charleston's history from the moment you pull away from the station to the moment you arrive back at the station at the end of your trip, and you are sure to leave with more trivia in your head than you thought possible!
Begin your historic city tour with a stop at High Battery and stroll along the sea wall to take in views of the houses and museums that make their homes there, as well as waterfront views of Charleston Harbor, Whitepoint Gardens, Patriot Point, and Fort Sumter. Your tour guide will keep you enlightened with over 300 years of Charleston history, from survival through the American Revolution and Civil Wars to tales of pirates and ghosts, and will take you to see numerous historic homes and churches with aged graveyards, complete with carved medallions and artistic work on each stone that show America's artistic and cultural past. See the rows of brilliant hued homes along Rainbow Row, and on the Southern Mansion, you will be able to tour the interior of a restored historic estate and witness first hand the charm and appeal of these rich homes.
Detailed Tour Itinerary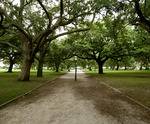 Tour Stop at
Tour Stop at
Battery Park - White Point Gardens
Enjoy southern mansions, cannons, cannon balls, oak trees, palmettos, statues, a gazebo, and views of Fort Sumter, Castle Pinckney, and the Sullivan Island Lighthouse at Battery Park. Take a stroll along this waterfront park and imagine the battles that occurred across the harbor.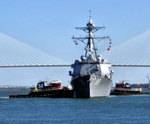 Drive By
Drive By
Charleston Harbor
The Charleston Harbor is an inlet of the Atlantic Ocean at Charleston, South Carolina. The inlet is formed by the junction of Ashley and Cooper rivers. Morris and Sullivan's Island, shelter the entrance. Charleston Harbor is part of the Intracoastal Waterway.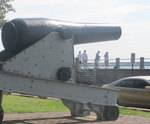 Drive By
Enjoy touring the tidal ponds and wide walkways of Colonial Lake in Charleston, South Carolina. For many years the lake was known as the Rutledge Street Pond and many residents still refer to the area as "The Pond". Now used as a park, Colonial Lake was named in 1881 in honor of the Colonial Commons established in 1768.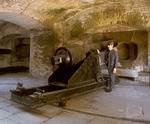 Drive By
Drive By
Fort Sumter National Monument
Visitors today can explore the historic site of Fort Sumter via two ferry departure sites, including the Fort Sumter Visitor Education Center. Interpretive exhibits will help paint the picture of American life during the mid-19th century and explaining the events that led to the bloody war.
Drive By
Drive By
Patriots Point Naval & Maritime Museum
Tour Patriots Point Naval & Maritime Museum and see famous ships including USS Yorktown, USS Laffey, USS Clamagore. On board the USS Yorktown exhibits include the Medal of Honor museum, and 25 naval aircraft. In addition to the naval museums, guests can also enjoy exhibits including Civil War-era artifacts and Vietnam War-era collections.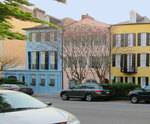 Drive By
Explore the brilliantly colored houses of Rainbow Row. Named for a series of thirteen historic colorful houses in Charleston, South Carolina. Located north of Tradd Street and south of Elliot Street, Rainbow Row is a common tourist attraction and is widely known as one of the most photographed parts of Charleston.
Drive By
Drive By
Old Exchange Building
The Old Exchange Building is infamous for the many rumors surrounding its mysterious past. From stories of ghoulish prisons of the Revolution to the former greeting house of 18th Century assemblies, the Old Exchange Building has a colorful past. Discover the building's prominent role in our country's quest for freedom and its service to our young nation.
Stops may change due to traffic, weather, maintenance, etc.
Whether you're a cultural, historical, or coastal fan, this historic city tour is the perfect addition to your Charleston vacation or getaway!
Reviews
Glenn Triviets
PA
✓
Verified Traveler
"Knowledgeable driver"
Knowledgeable driver
David Speas
OH
✓
Verified Traveler
Montegue house was interesting and the driver was a stitch. Enjoyed this very much.
Brian Ouellette
Columbus, Indiana
✓
Verified Traveler
"Awesome tour and tour guide!"
Awesome tour and tour guide!
Book Now!