Civil War Carriage Tour

Description
Civil War Carriage Tour Photos (1)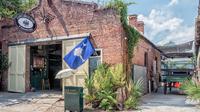 The Civil War carriage tour of Charleston is a nice way to see the city in slow motion. The Civil War carriage tour takes you to make parts of the city that are interesting, and it shows you places that you could not have dreamed of before. You must get tickets for this tour as soon as possible so that you can come to Charleston and see the history.
The Civil War markers in the city are a lot of fun because they move so slowly. You must use the Civil War markers to take pictures and learn some history of the city. The carriage driver gives you information on the city, and they answer your questions if you have any. This is a stress-free way to have fun in the city, and it helps you have a nice time while riding in the city.
You must come for this tour when you want to relax or have a romantic ride with your partner. It is pretty simple for you to use the carriage ride as a way to calm down after a long day, and it could be taken at night to make it as romantic as possible.
The tickets for your tour can be bought online, and you must use the carriage tried as a way to entertain your friends. This is a cheap and simple way to learn about Charleston, and it makes the town look so much more appealing when you are riding in such comfort.
Take this tour so that you can learn the city, and take as many pictures as you can because the town is so beautiful.
This is a wonderful opportunity to learn about the Civil War in the city where it started, and there is no better way to see Charleston than from a horse and carriage. This tour will explore the reasons why the war was fought, the fighting that took place on land and sea, and the impact that the war had on the city, all while passing through some of Charleston's beautiful antebellum neighborhoods.

Our guests may check in at the Old Brick Barn on Guignard Street, or you can just look for the green carriage in line on Market Street. We ask that you please check in thirty minutes before your scheduled departure time. When it is time for the tour to begin, you will be picked up by a clean, sturdy, and comfortable carriage being pulled by one of our beautiful Percheron draft horses. All of our carriages are covered, so you won't have to worry about getting too much sun. Once everyone is on board, the tour will begin in the Historic Charleston City Market and will then cover about 20 to 30 blocks of the residential historic district. The main difference between the carriages is the experience of your tour guide, and at Classic Carriage our guides have an average of over 12 years of experience giving the Civil War tour.

The tour will end at the Old Brick Barn on Guignard Street, the oldest active stable in the city of Charleston. You are welcome to explore the barn after the tour, and you can even say hello to your horse while he gets his water break. There really is no better way to experience Charleston.


Pickup & Return:
Company: Classic Carriage Works, LLC
The Historic Charleston City Market.
The tour will end at our stable, the Old Brick Barn located at 10 Guignard Street, Charleston, SC 29401. Guignard Street is just a half block from the Historic Charleston City Market.
Departure Times: 11:00 am, Thursday - Sunday.

Due to the fact that we are working with horses and that booking times may fluctuate throughout the day, we ask that you please check in at least 30-minutes prior to your scheduled departure time.

Includes:
Live commentary onboard
Professional driver/ guide
One hour carriage tour of the historic district

Does not include:
Gratuities (optional)
Hotel pickup and drop-off

Additional Information:
Confirmation will be received at time of booking
Please dress appropriately for the weather. The tour may be cancelled if the weather is deemed to be unsafe (thunder and lightning), or if the temperature is over 95 degrees
This specialty tour is only offered once per day, so please make sure you check in at least 30 minutes prior to your scheduled departure time
Children 3 and under can ride on a lap for free
Our carriages can seat up to 16 passengers
You are welcome to bring drinks (non-alcoholic) on the carriage
Book Now!