Cultural Tours in Charleston, SC
There is so much history embedded in the streets and buildings of Charleston, SC. Learn about this interesting time capsule on one of the cultural tours offered in the area.

Charleston Cultural Tours
Charleston is noted for its charm and beauty, but the city also has a history filled with plenty of sordid and seedy tales; it is these tales that are the focus of the Dark Side of Charleston Walking Tour.
Cultural tours in Charleston, SC are by far the most interesting and entertaining tours in the city and the ghost tour of Charleston is no different - for it is an eerie and bone-chilling way (to say the least) to show the locals and tourists about Charleston's dark history by walking among the city's graveyards and visiting well-known haunted sites.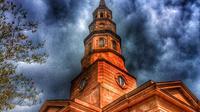 Take a stroll around the spooky streets of Charleston after dark! Your energetic local tour guide will show you several locations that were featured on Discovery Channel, and other informative networks. Can you handle the haunted streets of Charleston for 90-minutes?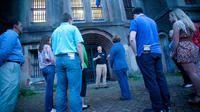 A Haunted Jail Walking Tour in Charleston is a stroll through a dark part of the city's past; the tour takes a look at the eerie Old City Jail, which was used for decades to house dangerous criminals.
Jul 22
7:00 PM
8:00 PM
9:00 PM
10:00 PM
Jul 23
7:00 PM
8:00 PM
9:00 PM
10:00 PM
Jul 24
7:00 PM
8:00 PM
9:00 PM
10:00 PM
Jul 25
7:00 PM
8:00 PM
9:00 PM
10:00 PM
Jul 26
7:00 PM
8:00 PM
9:00 PM
10:00 PM
Jul 27
7:00 PM
8:00 PM
10:00 PM
Jul 28
7:00 PM
8:00 PM
9:00 PM
10:00 PM
Jul 29
7:00 PM
8:00 PM
9:00 PM
10:00 PM
>