Classes & Lessons in Charleston, SC

Learn something new on your next vacation to Charleston, SC with one of the classes and lessons that are offered in the area.
Charleston Classes & Lessons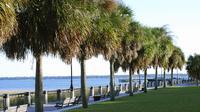 This walking tour of historic Charleston, South Carolina, includes some unexpected surprises, like classes and lessons that will leave tourists with a new appreciation for this popular and storied city.
Available 257 days between Apr 19, 2019 & Dec 31, 2019
View Schedule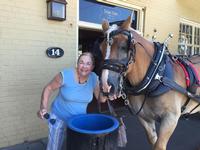 Experience Charleston in a unique and memorable way by having a one hour tour pulled by huge Belgian and Percheron draft horses that, give you the feeling of how people lived in the city two hundred years ago, while seeing all the best places.
Available 105 days between Apr 19, 2019 & Sep 10, 2019
View Schedule
Apr 18
9:00 AM
10:00 AM
12:00 PM
1:00 PM
3:00 PM
4:00 PM
5:00 PM
Apr 19
9:00 AM
10:00 AM
11:00 AM
12:00 PM
1:00 PM
2:00 PM
3:00 PM
4:00 PM
5:00 PM
Apr 20
9:00 AM
11:00 AM
12:00 PM
1:00 PM
2:00 PM
3:00 PM
4:00 PM
5:00 PM
Apr 21
9:00 AM
10:00 AM
11:00 AM
12:00 PM
1:00 PM
2:00 PM
3:00 PM
4:00 PM
5:00 PM
Apr 22
9:00 AM
10:00 AM
11:00 AM
12:00 PM
1:00 PM
2:00 PM
3:00 PM
4:00 PM
5:00 PM
Apr 23
9:00 AM
10:00 AM
12:00 PM
1:00 PM
2:00 PM
3:00 PM
4:00 PM
5:00 PM
Apr 24
9:00 AM
10:00 AM
11:00 AM
12:00 PM
1:00 PM
2:00 PM
3:00 PM
4:00 PM
5:00 PM
Apr 25
9:00 AM
10:00 AM
11:00 AM
12:00 PM
1:00 PM
2:00 PM
3:00 PM
4:00 PM
5:00 PM
Apr 26
9:00 AM
10:00 AM
11:00 AM
12:00 PM
2:00 PM
3:00 PM
4:00 PM
Apr 27
9:00 AM
10:00 AM
11:00 AM
12:00 PM
1:00 PM
2:00 PM
3:00 PM
4:00 PM
5:00 PM
Apr 28
9:00 AM
10:00 AM
11:00 AM
12:00 PM
1:00 PM
2:00 PM
3:00 PM
4:00 PM
5:00 PM
Apr 29
9:00 AM
10:00 AM
11:00 AM
12:00 PM
1:00 PM
2:00 PM
3:00 PM
4:00 PM
5:00 PM
Apr 30
9:00 AM
10:00 AM
12:00 PM
1:00 PM
2:00 PM
3:00 PM
4:00 PM
5:00 PM
May 01
9:00 AM
9:20 AM
9:40 AM
10:00 AM
10:20 AM
10:40 AM
11:00 AM
11:20 AM
11:40 AM
12:00 PM
12:20 PM
12:40 PM
1:00 PM
1:20 PM
1:40 PM
2:00 PM
2:20 PM
2:40 PM
3:00 PM
3:20 PM
3:40 PM
4:00 PM
4:20 PM
4:40 PM
5:00 PM
May 02
9:00 AM
9:20 AM
9:40 AM
10:00 AM
10:20 AM
10:40 AM
11:00 AM
11:20 AM
11:40 AM
12:00 PM
12:20 PM
12:40 PM
1:00 PM
1:20 PM
1:40 PM
2:00 PM
2:20 PM
2:40 PM
3:00 PM
3:20 PM
3:40 PM
4:00 PM
4:20 PM
4:40 PM
5:00 PM
May 03
9:00 AM
9:20 AM
9:40 AM
10:00 AM
10:20 AM
10:40 AM
11:00 AM
11:20 AM
11:40 AM
12:00 PM
12:20 PM
12:40 PM
1:00 PM
1:20 PM
1:40 PM
2:00 PM
2:20 PM
2:40 PM
3:00 PM
3:20 PM
3:40 PM
4:00 PM
4:20 PM
4:40 PM
5:00 PM
May 04
10:00 AM
10:20 AM
10:40 AM
11:00 AM
11:20 AM
11:40 AM
12:00 PM
12:20 PM
12:40 PM
1:00 PM
1:20 PM
1:40 PM
2:00 PM
2:20 PM
2:40 PM
3:00 PM
3:20 PM
3:40 PM
4:20 PM
4:40 PM
5:00 PM
May 05
9:00 AM
9:20 AM
9:40 AM
10:00 AM
10:20 AM
10:40 AM
11:00 AM
11:20 AM
11:40 AM
12:00 PM
12:20 PM
12:40 PM
1:00 PM
1:20 PM
1:40 PM
2:00 PM
2:20 PM
2:40 PM
3:00 PM
3:20 PM
3:40 PM
4:00 PM
4:20 PM
4:40 PM
5:00 PM
May 06
9:00 AM
9:20 AM
9:40 AM
10:00 AM
10:20 AM
10:40 AM
11:00 AM
11:20 AM
11:40 AM
12:00 PM
12:20 PM
12:40 PM
1:00 PM
1:20 PM
1:40 PM
2:00 PM
2:20 PM
2:40 PM
3:00 PM
3:20 PM
3:40 PM
4:00 PM
4:20 PM
4:40 PM
5:00 PM
May 07
9:00 AM
9:20 AM
9:40 AM
10:00 AM
10:20 AM
10:40 AM
11:00 AM
11:20 AM
11:40 AM
12:00 PM
12:20 PM
12:40 PM
1:00 PM
1:20 PM
1:40 PM
2:00 PM
2:20 PM
2:40 PM
3:00 PM
3:20 PM
3:40 PM
4:00 PM
4:20 PM
4:40 PM
5:00 PM
>