Charleston SC Aquariums & Zoos
Charleston Aquariums & Zoos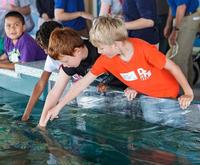 Located in downtown Charleston, the South Carolina Aquarium will provide hours of family fun. The aquarium is a fun educational way to learn about creatures that you may not otherwise ever see. There are over 60 exhibits, and you will learn about many different marine life animals that include sharks, alligators, sea turtles, crabs, jellyfish, river otters, and more. The largest exhibit is a 365 thousand gallon tank that covers two floors and is filled with wonderful sea creatures. Kids will enjoy the Touch Tank where they can interact with horseshoe crabs, stingrays, and other sea creatures. There is a 4-D theatre onsite.
Available 352 days between Oct 15 & Sep 30
Located on the historic Charleston Harbor, South Carolina Aquarium offers a fun and educational place to visit while in the city. Thousands of animals make the aquarium their home; from the American alligator to the purple sea urchin, the river otter to the sand fiddler crab. There are a wide variety of exhibits to enjoy with plenty to see, touch, and learn; Backyard Habitat, The Shallows, Carolina Seas, Touch Tank, and the Saltmarsh Aviary are just a few of the exhibits that can be enjoyed while visiting this aquarium. This truly is something that the entire family can enjoy, and it is certain to be a memorable excursion for both children and adults.
Available 78 days between Now & Dec 31