Branson Hotels with an Outdoor Pool
View all 26 Hotels with Outdoor Pool
Take advantage of the warm Branson days on your vacation by choosing accommodations that have an outdoor pool. Check out these selections below and don't forget to pack your bathing suit! There are so many amazing things to do and see in Branson, MO so do not miss out.
Branson Hotels with an Outdoor Pool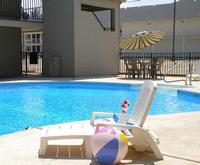 Rating:





Customer Rating:





Very clean , cold rooms, and right off the strip, great service and a full breakfast service!
Michael Hobbs
Shawnee, OK
The Southern Oaks Inn in Branson Missouri boasts some of the most notable amenities in the area and is just a stone's throw away from the magnificence that is the Ozarks. During the early days of Spring until the fading days of summer, the Southern Oaks Inn leaves its large outdoor swimming pool open for guests to enjoy. Guests should also expect a full complimentary breakfast every morning complete with coffee, hot tea, juices, and an abundance of breakfast favorites for the whole family to enjoy. Head to the Southern Oaks Inn in Branson, Missouri for a memorable stay with magnificent views of the Ozarks.
Indoor heated pool and hot tub is open 24 hours daily.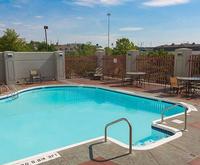 Rating:





Customer Rating:





It was very quiet stay. All staff and guests were very polite.
Karla Secrest
Parsons, Ks
Radisson Hotel Branson- Important information to know about this hotel: The Radisson Hotel Branson has many great reviews and this is the main reason why you an d your family should stay in this hotel when you go on vacation! If you are looking for a hotel that has an outdoor pool and a hot tub to offer, then this will be your best option. The Radisson Hotel Branson has a laundry facility and it also has a very large out door pool where you and your close ones will be able to relax and enjoy your vacation, and will want to come back soon!
Outdoor pool is open from 9 AM to 10 PM daily.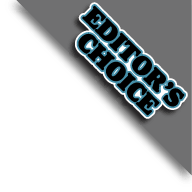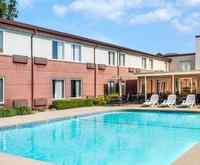 Rating:





Customer Rating:





The most friendly helpful place I've stayed. Very convenient to all my shows.
Jennifer Hancock
Hinton, Oklahoma
The Days Inn Branson is located on Green Mountain Drive in Branson Missouri. This hotel is located just one mile away from the Rick Thomas Illusionist & Magic Show. This hotel offers free Wi-Fi, complementary hot breakfast, free parking, an outdoor pool and free cable television. There is also a state of the art fitness center available onsite for that you can get your favorite workout in while you are on vacation. Refrigerators and microwaves are available to all guest upon request.
Outdoor heated pool is open from 9 AM to 10 PM daily.
Exclusive Online Offer: Save up to 37%

Rating:





Customer Rating:





Our stay at Thousand Hills Golf Resort was everything that we expected. Our condo was comfortable and spacious.
Shannon Roberts
Wichita, KS
Stay in style and luxury on your next trip to the Ozarks and reserve a condo at the Thousand Hills Golf Resort in Branson, Missouri. The infamous sprawling 18-hole golf course surrounds the resort and offers excitement and adventure for all ages, so it's an optimal place for an upscale family vacation with the kids. Thousand Hills Golf Resort boasts beautiful amenities in lavish condos such as fully-furnished kitchens, plush furniture, and all the trimmings of home for the utmost comfort and convenience. Head down to the outdoor pool after a long day of exploring the area and enjoy swimming in the crystal clear waters surrounded by views of the sprawling Ozarks.
Outdoor pool is open from 10 AM to 10 PM daily.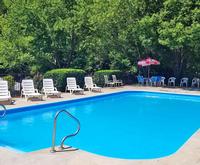 Rating:





Customer Rating:





Nice rooms...clean..not fancy, but we weren't looking for fancy, so it was perfect! Would stay there again!
Dennis Varo
Baroda, MI
Book your stay in Branson, MO at The Fall Creek Inn and Suites the perfect place to spend your Ozarks vacation with family. You'll have amenities like free high-speed internet, restaurants on-site, friendly workers, laundry on-site, vending machines, icemakers, and for your convenience in your room you'll have ironing boards, a fridge (varies by room), blow dyers, and blankets with clean linens. There's so much for you and your family to do like enjoy the BBQ area next to the creek with picnic tables, swimming in the outdoor pool, and taste the delicious buffet-style breakfast provided by the hotel.
Outdoor pool is open from 10 AM to 10 PM daily.

Rating:





Customer Rating:





the motel was great but under the air conditioner were food left over from previous people, i wish it would of had a small fridge for cold soda and bottled water and a small micro for popcorn etc. but otherwise it was great. parking was a little tough also.
Dawn Peery
Festus, MO
The Quality Inn on the Strip is located in Branson Missouri and its just minutes away from all of your favorite attractions that Branson has to offer. This hotel offers its guests free Wi-Fi, complimentary hot breakfast, free parking, hot tub, indoor and outdoor heated pool and first class service. The rooms here come with hair dryers and coffee makers and you can also ask for adjoining rooms or connecting rooms. Feel free to bring along your furry friends because this hotel is pet friendly. It's also handicap accessible for all of your special needs guest.
Outdoor pool is open from 8 AM to 11 PM daily.
View all 26 Hotels with Outdoor Pool