City Tours in Baltimore, MD
A city tour is a fantastic way to explore the Baltimore, MD area and experience everything great about this wonderful place.

City tours are the best when someone else does the driving, and that is what happens on the Original Annapolis Seafood Crawl where stops in Annapolis and Eastport will fill your stomach with the best flavors of the Chesapeake Bay.
Available 178 days between Jun 25, 2018 & Dec 30, 2018
View Schedule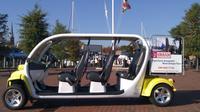 When you're looking for a place to learn some American history; that is scattered with old colonial buildings, home of John Adams, and the beautiful Chesapeake Bay; you need to travel to the once capital of the United States, Annapolis.
Available 182 days between Jun 25, 2018 & Dec 31, 2018
View Schedule
The Baltimore scavenger hunt adventure is a fun, adventurous, and unforgettable way to see some of what makes Baltimore such an interesting and unique city while also having a fun time.
Available 97 days between Jun 23, 2018 & Apr 30, 2019
View Schedule
Jun 23
9:00 AM
9:00 AM
11:00 AM
11:00 AM
1:00 PM
1:00 PM
Jun 24
9:00 AM
9:00 AM
11:00 AM
11:00 AM
1:00 PM
1:00 PM
Jun 25
9:00 AM
9:00 AM
11:00 AM
11:00 AM
1:00 PM
1:00 PM
Jun 26
9:00 AM
9:00 AM
11:00 AM
11:00 AM
1:00 PM
1:00 PM
Jun 27
9:00 AM
9:00 AM
11:00 AM
11:00 AM
1:00 PM
1:00 PM
Jun 28
9:00 AM
9:00 AM
11:00 AM
11:00 AM
1:00 PM
1:00 PM
Jun 29
9:00 AM
9:00 AM
11:00 AM
11:00 AM
1:00 PM
1:00 PM
Jun 30
9:00 AM
9:00 AM
11:00 AM
11:00 AM
1:00 PM
1:00 PM