Atlantic City Area Pet Friendly Hotels
View all 5 Pet Friendly Hotels
Staying in Atlantic City? Don't worry about the hassles of trying to find a caretaker for your pet while you're gone! These lodging facilities all offer a pet-friendly atmosphere where you'll find yourself and your pet are treated to the upmost in comfort and convenience. Be sure to choose the best hotel for your vacation!
Atlantic City Area Pet Friendly Hotels

Rating:





Customer Rating:





Your trip to Atlantic City is going to get a lot more exciting at the Ramada West, the hotel near many amazing attractions. You'll be close to incredibly fun attractions including casinos, beaches, the Boardwalk Hall, the Atlantic City Convention Center and the Sand Castle Baseball Stadium. You'll have tons of fun in the outdoor pool, enjoy on-site casinos, have a free shuttle ride to the airport and get access to the train station. And you won't have to worry all of your needs will be met with 24-hour front desk service, laundry services, and all the amenities you need.
Up to one large dog under 50 pounds is allowed for an additional per night fee.

Rating:





Customer Rating:





The Harrah's Hotel has been a part of Atlantic City for years and offers its guests an opportunity to stay at a 4-star resort that offers amenities for the entire family. The hotel is centrally located right on the river which means it is close to the iconic boardwalk and provides access to many different attractions. As for Harrah's itself it has a relaxing poolside area, a fun game room for the kid in all of us, comfortable rooms that provide many comforts. Plus for those who don't want to leave our beloved pets at home while on vacation they are a pet-friendly hotel as well.
Large dogs under 50 pounds are allowed for an additional per night fee.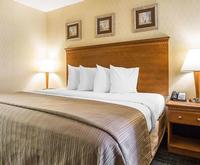 Rating:





Customer Rating:





It can be a tiresome experience for a pet owner to find a decent hotel for his pets. We here at Quality Inns and Suits makes sure that your pet gets the best treatment. We here at Quality Inns and Suits always welcome pets and we do our best to make sure that your pets are properly taken care of. We take care of your pets when you are away for business and we have the best pet foods available. We inspect the safety of the pet foods so you can be sure and secure. We really love pets here at Quality Inns and Suits.
Up to two large dogs under 50 pounds are allowed for an additional per night fee.

Rating:





The Sheraton is a name known for class, The Sheraton Atlantic City Convention Center maintains that reputation and then some. What makes this classy, 4-star hotel different from a lot of other hotels in the Atlantic City area is not the amazing amenities such as the indoor pool or on-site laundry service, the stunningly gorgeous rooms, or even the valet or breakfast buffet, it is the fact that they are an up-scale, classy hotel that allows the entire family, including pets! This among everything else the Sheraton has to offer makes this hotel the number one choice for Atlantic City.
Up to one large dog is allowed for an additional one-time fee.
Homewood Suites by Hilton Egg Harbor, New Jersey, is a short drive into Atlantic City, NJ. The hotel offers many amenities, including a business center, indoor pool, fitness center, and complimentary hot breakfast. The facilities are accessible to those who need wheelchair accommodations. The hotel is pet-friendly. All suites at this location feature a full-function kitchen. Included in the cost of one's stay are laundry facilities and kid's programs. The room suites include separate rooms. One is for sleeping, and the other is for socializing. There are no rooms that have only beds. Wi-Fi is free. Guests have to pay for parking.
Up to two large dogs under 50 pounds are allowed for an additional per night fee.
View all 5 Pet Friendly Hotels