Atlantic City, NJ Hotels with an Outdoor Pool
View all 8 Hotels with Outdoor Pool
Atlantic City, NJ Hotels with an Outdoor Pool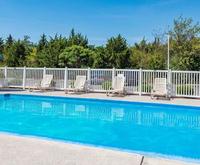 Rating:





Customer Rating:





The Ramada West Atlantic City provides a spacious outdoor pool that has steps leading into the water. Although the pool isn't too deep, it still offers a relaxing setting for guests who want to cool off during the day. Tables with umbrellas and chairs are positioned around the pool as well as a fence for privacy. The hotel provides transportation for guests who are leaving to go to the airport or those who are traveling to the hotel from the airport.
Outdoor pool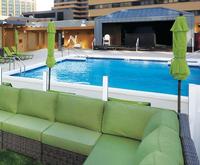 Rating:





As everyone knows, one of the most popular tourist locations is Atlantic City New Jersey. There are many fun things to do in New Jersey including seeing live entertainment, dining at some great restaurants, going to the beach and yes hitting the casinos. Now people can see live entertainment and hit the Casino at the Tropicana Casino And Resort. The rooms are outstanding and they have 4 pools, 25 restaurants and a Imax theater on site. If it is to cold to take a dip outside make use of their heated indoor pool. Staying at the Tropicana is living the life of luxury.
Outdoor heated pool is open from 10 AM to 10 PM daily. There is also a lifeguard on duty.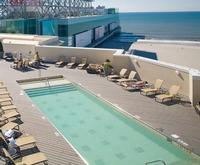 Rating:





What is more fun than a beach vacation with more than just shopping and beach going, enjoy the wild and crazy casino scene at Atlantic City today! While you enjoy your visit to the beautiful beaches and high class, high rolling casinos spend your stay at the Caesars hotel in Atlantic City. Not only does this hotel off an in house casino, bars and restaurants but it also has a gorgeous outdoor pool Take a relaxing swim while you wait for your next cocktail and enjoy your stay at Caesars!
Outdoor pool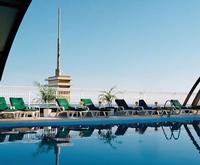 Resorts Casino Hotel Atlantic City provides an outdoor pool that will give you a beautiful view of the ocean. The hotel provides a large casino, full-service spa, venues, and multiple bars and lounges, fitness room, sauna, and a steam room. Pamper yourself in the salon to grooming your hair, skin, nail, and get body treatments. Then after all the pampering, go out to eat at the most reputable restaurants in the area which are Cielo Wine Bar, Mukashi Bar, Capriccio Italian Restaurant, and Gallagher's Steak house, retreat to your room with other great amenities that will make your stay enjoyable.
Indoor pool and hot tub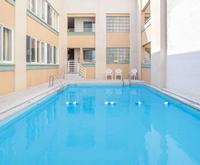 The Howard Johnson Inn in Atlantic City features an outdoor pool that is designed so that it's in the center of the buildings that comprise the hotel. There is a ladder that leads into the water at one end and steps at the shallow end. A restaurant is located in the hotel that serves breakfast and lunch. Room service is available for guests who don't want to leave to go to the restaurant so that they can enjoy the free cable television as well as the free Wi-Fi.
Outdoor pool is open from 10 AM to 10 PM daily.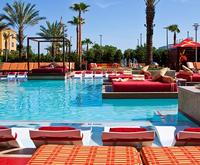 Rating:





Located in Atlantic City, New Jersey's beautiful bayside the Golden Nugget Hotel is a casino and marina that is situated far from the boardwalk. Hotel guests can enjoy amenities like room service, laundry service, a fitness center, an outdoor pool, and a hot tub. Guests can try out the H20 seasonal rooftop pool deck and enjoy dining at either the Buffet, the Chart House, The Poolside Café, Vic & Anthony's, or the Deck Bayfront Bar & Restaurant. The hotel offers many options for entertainment, such as family-friendly games, shopping, and nightlife. For a spectacular time, take in a show at the hotel's theatre, which has hosted top entertainers like Prince and Ray Charles.
Outdoor heated pool and hot tub is open from 10 AM to 10 PM daily.
View all 8 Hotels with Outdoor Pool