Atlantic City Hotels with an Indoor Pool
View all 7 Hotels with Indoor Pool
No matter the weather, you're able to take a dip in the pool with these hotels. Be sure to book a hotel with an indoor pool to relax at the end of your day, no matter what time of year it is. For the best vacation experience, be sure to stay in nearby lodging and find outdoor adventures!
Atlantic City Hotels with an Indoor Pool

Rating:





Customer Rating:





Harrah's Atlantic City Hotel has a gorgeous indoor heated pool and other great amenities which are The Elizabeth Arden Red Door Spa, nightclub, complimentary internet access, and other great features. Nearby attractions are the Atlantic City Dolphin Watching Cruise, The Hostel Escape Room, X-File: The Alien Activist Infiltration Escape Room, and other great attractions. Your room is equipped with an in-room coffee maker, a television with cable access, refrigerator, iron, and other great amenities that will make your stay enjoyable.
Indoor pool and hot tub with a separate kids pool available for small children is open from 8 AM to 10 PM daily. There is also a lifeguard on duty.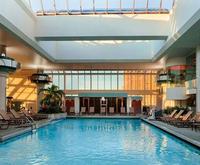 Rating:





Visiting Atlantic City is a fun and busy vacation that will have you on the go all day long but at the end of the day when you just want to relax, stay at Bally's Atlantic City resort. Bally's has a high end, top rated casino in house, restaurants and bars and even an indoor pool. sit back and relax at Bally's indoor pool while you unwind from a day filled with gambling fun. We hope to see you there!
Indoor pool and hot tub is open from 7 AM to 11 PM daily.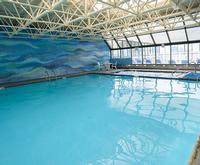 Rating:





Come and relax in luxury at the Flagship Resort in Atlantic City. If your looking for luxury with an indoor pool then this resort is for you. This resort has the best amenities which a beautiful rooftop pool, on-site dining, 24-hour security, an arcade, a business center, and a complimentary shuttle. You're near some main attractions which are Absecon Lighthouse, Historic Gardner's Basin, and Atlantic City Aquarium. Steel Pier, Civil Rights Garden, Central Pier, and much more. Your room is equipped with a TV with premium channels, an alarm clock, an iron, a phone, and many more amazing features.
Indoor pool and hot tub is open from 9 AM to 10 PM daily.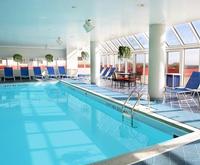 Rating:





From the casino to the heated indoor pool, guests who stay at the Tropicana Casino & Resort have access to multiple amenities on the property. Tables with umbrellas surround the indoor pool as well as decorative designs on the walls. Lighting on the walls casts a glow on the water in the evening so that there is a delicate shimmer while guests are swimming. A variety of games are available for guests to play at the casino along with drinks and food that can be purchased in the hotel restaurant.
Indoor heated pool and hot tub is open from 8 AM to 10 PM daily. There is also a lifeguard on duty.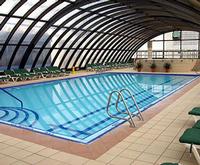 When guests stay at the Resorts Casino Hotel in Atlantic City, they can enjoy a heated indoor pool and a hot tub. The pool is open all year so that guests have a fun activity to do if they don't want to play some of the games that are available in the casino. Rooms have been remodeled and are designed with warm and inviting colors as well as comfortable beds and new bedding. Free breakfast is served, and there is a restaurant where guests can get lunch and dinner as well.
Indoor pool and hot tub is open from 9 AM to 10 PM daily.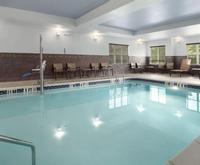 Homewood Suites by Hilton in Egg Harbor Township, New Jersey is the perfect stay for those looking for a hotel offering an indoor pool. This pet-friendly hotel also offers an outdoor pool, a complimentary hot breakfast, free Wi-Fi, and a business center. There are also kids programs available. The suites feature a kitchen, TV with cable, an iron and ironing board and hairdryer. King suites offer a pull out sofa. Attractions near the hotel include Borgata Casino, Atlantic City Boardwalk, Tanger Outlet Mall and Cape May County Park & Zoo. Local restaurants are Berkshire Grill, Flat Stone Tavern & Grill, and Outback Steakhouse.
Indoor heated pool is open from 7 AM to 10 PM daily.
View all 7 Hotels with Indoor Pool