Ride the Ducks
Description
You cannot spend a fun family vacation at Stone Mountain Park in Georgia without taking time to experience the Ride the Ducks sightseeing tour.
This fun, fully narrated tour is designed to be the highlight of your vacation, regardless of your age. Everyone will love exploring Stone Mountain Park aboard a land and water vehicle that has appropriately been termed 'The Duck.' The vehicle is a 1940s era, open-air vehicle that allows you to explore the area by land and water without changing vehicles on this fun tour, complete with lighthearted music, fascinating tales, and hilarious stories! During the tour, you will be provided with a duck whistle so you can quack along.
Detailed Tour Itinerary
Drive By
Drive By
Stone Mountain Park
Begin your Ride the Ducks tour by exploring Stone Mountain Park by land. Designed to give you an in-depth look at the history of the park from its beginning to the present day, this tour will take you past the many fun activities and natural beauties available to park guests.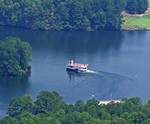 Drive By
Drive By
Stone Mountain Lake
After thoroughly exploring the sights of the park by land, the Duck converts effortlessly into a boat that glides right into Stone Mountain Lake, offering you plenty of views of the lake and surrounding scenery. You may even have the chance to steer the boat as you explore the waterfront attractions.
Stops may change due to traffic, weather, maintenance, etc.
There is no experience in Stone Mountain Park quite like the Ride the Ducks tour, so be sure to include this tour in your vacation plans for an experience your family will not soon forget!
MOST POPULAR THINGS TO DO
IN ATLANTA GEORGIA