Hop On / Hop Off Double Decker Tour
2232 Harbor Blvd Anaheim, CA 92802
1-800-987-9852
Description
See the best and hottest locations around Los Angeles at your own pace with the Hop-On/Hop-Off Double Decker Tour! This option will allow guests to get on or off at each stop at their own convenience, making for the perfect chance to get in-depth views of the most popular tourist destinations in the region.
With a total of six different routes, four primary and two connecting, there are more than one hundred miles of sightseeing to enjoy. Disembark at one of the over seventy tour stops, and get up-close views of some of the best locations in the city. Get spectacular views of the coastal landscapes, beautiful beaches, and inner-city sites on these luxurious double-decker buses.
Not only does this tour allow you to choose what you see in detail, but it also provides you with the pre-recorded audio narration of the tours in up to nine different languages. This makes the tour more accommodating to those foreign visitors that want to learn about the area and nearby attractions with more in-depth knowledge.
Get wonderful views of sites such as the Hollywood Walk of Fame, Rodeo Drive, Sunset Strip, Dolby Theater, Beverly Hills, Fox Studios, Grand Central Market, Venice Beach, and so much more!
Detailed Tour Itinerary
Tour Stop at
Tour Stop at
Dolby Theatre
The Dolby Theatre was formerly named the Kodak Theatre, and houses live performances in the auditorium. This has been the location for the Academy Awards ceremonies since 2002. This gorgeous theater was designed by David Rockwell specifically with the Oscars in mind. The Dolby Theatre also hosts numerous live concerts when the Oscars aren't going on. This wonderful and interesting place is a great starting point for this tour of the Anaheim/Hollywood area.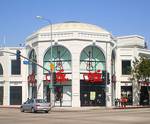 Tour Stop at
Located in front of the Guitar Center on Sunset Boulevard, this amazing hall of fame pays homage to all the pioneering musicians with their own individual squares in cement, allowing them to place their handprints on the squares to be immortalized. See squares from past inductees such as Eric Clapton, Carlos Santana, Johnny Cash, Motorhead, Cheap Trick, Jerry Lee Lewis, Les Paul, and so much more!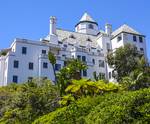 Tour Stop at
Tour Stop at
Chateau Marmont
This beautiful sprawling hotel was designed by William Douglas Lee, and loosely modeled after the Chateau d'Ambiose in France. Originally meant to be an apartment complex, this was soon converted to be a hotel a short 2 1/2 years after opening its doors to the public. Having been built as earthquake proof, this site served as an air-raid shelter in the 1940's. In 1976, this site was designated as one of Los Angeles' Historical-Cultural Landmarks and has since been featured in numerous films, songs, as well as web comics. The hotel has also been involved in the works of many great authors, such as F. Scott Fitzgerald, Hunter S. Thompson, Annie Leibovitz, and was even the death place of John Belushi.
Tour Stop at
Tour Stop at
Sunset Strip
This nine and a half mile stretch of Sunset Boulevard is one of the most noted sections of this road. Passing through West Hollywood, this stretch of road is filled with bright and colorful billboards, rock clubs, nightclubs, restaurants, and boutiques that are all a part of the cutting edge of the entertainment industry. This is one of the hottest places in the area for all the glitz and glamor that is what Hollywood is so well known for.
Tour Stop at
Tour Stop at
The London West Hollywood
A marvelously lavish hotel complete with an exquisite rooftop restaurant, 226 suites, oversized spa-like luxury baths, personal concierge, a complimentary signature breakfast table, complimentary wifi and calls to London, rooftop pool, lavish meeting and event spaces, state-of-the-art fitness centers, an 110-seat screening room, hairstyling, nail, and makeup services offered in-suite or at the Alex Roldan Salon, unique and inspired gifts at the Alex Roldan Boutique. This high-class hotel is a great way to see what Hollywood is all about.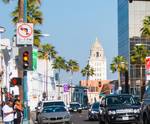 Tour Stop at
Tour Stop at
Santa Monica Blvd
This popular east-west street in Los Angeles County is one has long been known for being home to most of the Westside car dealerships, shopping centers, and has been mentioned in songs, and films. This is a great addition to any tour, showcasing some of Hollywood's most elite, as well as some of the more checkered personalities that the great city houses.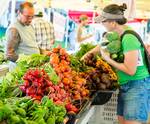 Tour Stop at
Tour Stop at
Beverly Hills Farmers Market
This weekly outdoor market is not only a popular destination to buy produce at, but also features special events like a Kid's Zone, Cookin' Kids, Storytime, and much more. Grab your favorite California-grown fruits, vegetables, juices, breads, and specialty items while taking in the wonderfully festive environment. Visit the Farm to Table section, where you can find videos, recipes, and more.
Tour Stop at
Tour Stop at
Beverly Hills Public Library
This gorgeous public library houses a collection of books that is upwards of 202,930. With such a vast selection, guests are sure to find just what they are in search of. The library even offers free computer cards to anyone with a valid photo ID and is open to all members of the public. A great stop for any tour, this place can keep visitors entertained for hours, even days.
Tour Stop at
Tour Stop at
Beverly Center
This massive, eight-story structure is home to a popular shopping mall, and features valet parking, taxi services, and boasts a magnificent rooftop terrace that offers stunning views of the Hollywood Hills and surrounding area. This mall has been mentioned and featured in numerous books and films, making it more popular than before.
Tour Stop at
Tour Stop at
La Brea Tar Pits & Museum
This fascinating location has long been around and consists of oil and tar seeping up from the earth over tens of thousands of years. The pits contain numerous skeletal remains of the many species of animals that have found themselves mired in the tar, making it a scientific goldmine for those who wish to study the ancient history of the earth. This location is a National Natural Landmark and has been a popular tourist destination for a long period of time. Some of the fossils found in the pits have been dated as far back as 38,000 years.
Tour Stop at
Tour Stop at
Melrose Ave Shopping District
This is a popular shopping area that includes all kinds of dining and shopping areas frequented by the most elite people of the Hollywood area. Many tourists enjoy the thrill of shopping and dining where many of the biggest Hollywood stars go, and some even get the rare chance of meeting some of the local celebrities when they are out and about. This is one place that is a must-see for the Hollywood area.
Tour Stop at
Tour Stop at
Pink's Hot Dogs
This landmark hot dog joint was founded by Paul and Betty Pink in 1939 and had humbled beginnings. Originally a pushcart, this small hot dog vendor became known for their chili dogs that were topped with owner/founder Betty's own homemade chili recipe. This well-received hot dog joint is home to numerous dogs named after celebrities who had ordered the specialty dogs, making it more fun and interesting to eat at. The wonderfully quaint joint is complete with its own parking lot attendant, providing visitors with the real Hollywood vibe.
Tour Stop at
Tour Stop at
Paramount Studios
This notable film studio was founded in 1912 and has since been ranked the fifth oldest surviving film studio in the entire world. Paramount is also the last major film company still headquartered in Hollywood. Some notable stars such as Bob Hope, Leonardo DiCaprio, Betty Hutton, Paulette Goddard, and much more have starred in films produced by this world-renowned filming studio.
Tour Stop at
Tour Stop at
Hollywood Pantages Theatre
This spectacular theater in the Hollywood area has a magnificent Art Deco facade to the exterior and was the last theater built by the vaudeville impresario Alexander Pantages. This theater hosted many vaudeville productions after its opening, as well as being the home for the Academy Awards for ten years. All of these aspects come together to make this theater a popular site to visit for people of all ages and walks of life.
Tour Stop at
Tour Stop at
Los Angeles' The Grove at Farmers Market near Anaheim, CA
Complete with shopping locations, dining options, as well as numerous events and movies, this destination has long been a popular site for celebrities and the most elite in terms of shopping and dining. The location also houses a theater with 14 state of the art screens, 3,000 plush chairs, and modernized concession vending. Find yourself submerged in the hottest fashions and foods within this area, and shop like the famous people do!
Stops may change due to traffic, weather, maintenance, etc.
This tour is a great addition to anyone's vacation to the Los Angeles area, so be c=sure to check it out when planning your next trip California! Book your reservations today!
MOST POPULAR THINGS TO DO
IN ANAHEIM CALIFORNIA
Book Now!