Ghost Trolley Tour with Rum Cellar & Sorrell Weed House Tours
Historic On/Off Trolley Tour , 250 Martin Luther King Blvd Savannah , GA 31401 |
1-800-987-9852

This three-hour tour begins with a trolley tour of the haunted areas in Savannah's historic district.
Details
The tour lasts approximately 2 hours.
Appropriate for All Ages
Handicap Accessible
Both Cameras and Video Cameras are Permitted
View Schedule
Description
From hanged slaves and suicidal wives to murdered husbands, each area is said to have a tragic past with tragic figures that never left. Though the trolley visits many locations, exact itinerary depends on the guide for a tour experience designed for you.
Detailed Tour Itinerary
STOP 1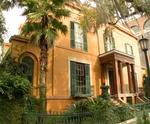 Includes Admission to
Includes Admission to
Sorrel-Weed House
You will also visit Sorrel-Weed House, one of the most haunted buildings in Georgia. Here, you'll receive your own EMF detector to track the ghosts that reside at the house, and the tour group will explore the Infrared Room, where paranormal activities are recorded using infrared technology. When the house appeared on SyFy Channel's Ghost Hunters, the team recorded an EVP of a slave girl trying to flee the former slave quarters. There are many theories as to who actually haunts the house, but disembodied voices, invisible parties, and actual apparitions have been heard and seen there.
STOP 2
Includes Admission to
Includes Admission to
The Pirates' House Rum Cellar
The tour also includes admission to the Pirates' House Rum Cellar, where guests will learn about the house's sordid past and will explore a series of mysterious underground tunnels that lead to the Savannah River. The purpose of the tunnels is not clear, but as with many of the eerie sites on the tour, one can only wonder.
Stops may change due to traffic, weather, maintenance, etc.
Still Have Questions?
Reviews
MOST POPULAR THINGS TO DO
IN SAVANNAH GEORGIA