Evening Haunted Trolley Tour
20 East Broad Savannah , GA 31401 |
1-800-987-9852

The city of Savannah has long been noted for its haunted past, and with the Evening Haunted Trolley Tour, you'll have the chance to uncover the many tales and sights that lend credibility to the haunted claims of the city's history.
Details
Trolley Tour Takes Approximately 90 Minutes
Hotel Pick Up & Drop Off is Included
*View Details
Appropriate for All Ages
Handicap Accessible
Cameras are Permitted
View Schedule
Description
On this 90-minute trolley tour, you will have the opportunity to explore America's Most Haunted City while your guide provides you with verifiable accounts of the murders, mysteries, and spirits of the area's past. Listen to tragic tales of some of the most prominent Savannah spirits, including Alice Reily, Nathaniel Green, and Anna the ghost that haunts the area's hotels. The trolley will take you throughout the entire historic district, taking you past the sights listed below and many others. The Evening Haunted Trolley will let you decide for yourself whether Savannah's haunting tales are fabricated from its long, sometimes tumultuous history or they are set in a bed of credence.
Detailed Tour Itinerary

Drive By
Wesley Monumental Methodist Church

Drive By
Leopold's Ice Cream Parlor

Drive By
King-Tisdell Cottage

Drive By
International Seamen's House

Drive By
Independent Presbyterian Church

Drive By
Historic Savannah Theatre

Drive By
Harper Fowlkes House


Drive By
Flannery O'Connor Childhood Home

Drive By
First Jewish Cemetery

Drive By
First Baptist Church of Savannah



Drive By
Cotton Exchange Tavern & Restaurant

Drive By
Confederate War Memorial Monument

Drive By
Lucas Theatre For the Arts

Drive By
Lutheran Church of the Ascension

Drive By
United States Customs House

Drive By
Trinity United Methodist Church

Drive By
Tomochichi Monument

Drive By
The Waving Girl Statue

Drive By
Temple Mickve Israel

Drive By
Telfair Museums Jepson Center


Drive By
Site of Fort Wayne

Drive By
Ships of the Sea Maritime Museum

Drive By
SCAD Museum of Art

Includes Admission to
Savannah's Old Candler Hospital

Drive By
Saint John's Episcopal Church

Drive By
Olympic Cauldron

Drive By
Old Harbor Light & Oglethorpe Bench


Drive By
Christ Church Episcopal


Tour Stop at
Old City Exchange Bell

Tour Stop at
Mansion of Forsyth Park



Tour Stop at
Dockside Seafood


Drive By
Cathedral of St. John the Baptist

Tour Stop at
Bohemian Hotel Savannah Riverfront


Drive By
Massie Heritage Museum

Tour Stop at
Savannah Visitors Center

Drive By
Roundhouse Railroad Museum

Drive By
Chatham Artillery's Washington Guns

Drive By
Charles H. Morris Center Trustees Garden



Drive By
Thomas Square Historic District



Drive By
First African Baptist Church


Drive By
Washington Square

Drive By
Andrew Low House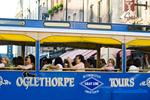 215 West Boundary Street
Meet your tour at 215 West Boundary Street at the Oglethorpe Trolley Tours main location in the historic Savannah area. Here, you will have access to free parking and be able to board your trolley for this fantastic haunted tour.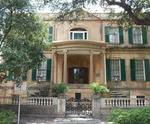 Drive By
Owens-Thomas House
Now a house museum, the Owens-Thomas House was built in 1819, and according to several accounts, a ghostly figure of a man has been haunting the building since the upper floors were being used as apartments. Even now, the staff occasionally hears the sounds of footsteps, noises that they assume originate with straggling members of their tour group, only to find that there are nothing but empty rooms.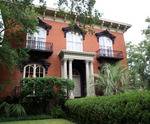 The Mercer House, now the Mercer-Williams House Museum, was the scene of the shooting death of Danny Hansford, a story that is retold in the 1994 John Berendt novel 'Midnight in the Garden of Good and Evil.' Before his death, the house had already been the scene of two deaths: In 1913 a previous owner tripped over the second floor banister, fractured his hip, and suffered a concussion, dying three days later. In 1969, a boy chasing pigeons on the roof fell over the edge and impaled himself on the iron fence below.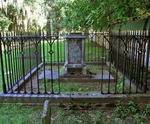 Tour Stop at
Colonial Park Cemetery
Established in 1750, the Colonial Park Cemetery functions as an anchor location for Savannah's early haunted history, and it is also where the infamous Jesse Greathouse video was filmed in 2008, which has become one of the most compelling and controversial pieces of evidence for life after death currently available.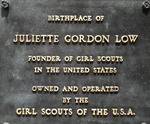 Tour Stop at
Juliette Gordon Low Birthplace
The Birthplace of Juliette Gordon Low, founder of the Girl Scouts, was constructed in 1821. This house is an incredibly popular spot for the ghost tours in Savannah. Sarah, Juliette's grandmother, is said to still haunt the old mansion, and now that the building is a house museum, it is entirely possible to catch a glimpse of Sarah while on tour.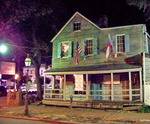 Tour Stop at
The Pirates' House
The Pirates' House, constructed in 1794, was originally a bar and boarding house for sailors. Reportedly, the basement was used to shanghai unwary (and unconscious) men through a secret tunnel which led to the Savannah River. These men were forced into seafaring service against their will.
Built to be a private residence by Isaiah Davenport, the Davenport House is now a house museum and is home to several different ghost stories, including the most famous story surrounding a cat. While there is no cat living in the Davenport House, many visitors have reported seeing a cat run from room to room or sit in the window sill and watch the people walk by outside.
Stops may change due to traffic, weather, maintenance, etc.
Still Have Questions?
Reviews
Our guide was so delightful and funny. Most entertaining trip.
-- Barabara Glass - Helena, AL

We had the best time and our guide was amazing!
-- Becky Ridings - Canton, GA

The guide was very knowledgeable and thorough. Questions asked were answered and all enjoyed a great time getting to know savannah.
-- Micheal Harmon - Goose Creek, SC

MOST POPULAR THINGS TO DO
IN SAVANNAH GEORGIA