Lennon & Maisy Stella At Grand Ole Opry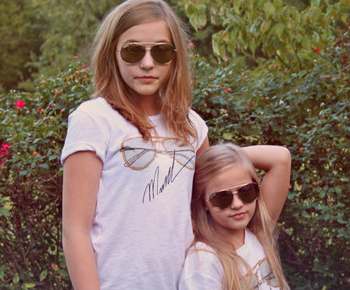 Pre-teen sisters Lennon and Maisy Stella haven't been performing long, at their young age, but they have definitely been creating a name for themselves lately. The two girls co-star in the new hit ABC show Nashville as main character Rayna Jaymes' daughters. The two also made their debut appearance on the Grand Ole Opry at the Ryman Auditorium in December of 2012.
Lennon and Maisy, daughters of Canadian husband-and-wife country duo The Stellas, got their first taste of fame after uploading a cover of Swedish singer Robyn's "Call Your Girlfriend." The song featured the two young girls performing the song in an a cappella style, using empty margarine containers for percussion. The video soared past a million views in just a matter of days, and the sisters received calls and emails from stars like comedian Amy Poehler and Damian Kulash, the lead singer of the band OK Go, wanting to collaborate.
The video got the girls so much success so quickly that when Good Morning America invited them to sing on the show, they had no time to practice. On their way to New York for the show, just two days after the video was posted, one of the passengers on the plane saw the girls, turned to her friend and whispered "butter containers."
The girls' fame didn't stop with YouTube, however. After auditioning for the show Nashville, the producers recast the roll for main character Rayna Jaymes's daughters. The girls have a recurring role on the show currently and have the opportunity to sing for the show's soundtrack, including their version of co-star Hayden Panettiere's song "Telescope."
Newsletter Signup
Signup to be notified when new dates are added:
Upcoming Dates at Grand Ole Opry: