Spring Break in Myrtle Beach, SC
Create Spring Break Package
Spring Break in Myrtle Beach is one of the top Spring Break destinations for families with a wide variety of entertaining shows, interactive attractions, unlimited tastes from local restaurants, and many more family friendly Spring Break activity ideas. There are over 60 miles of beachfront in Myrtle Beach which ensures your family will find the perfect location to bask in the warm sun.
If you are searching for the perfect hotel to complement your stay, browse through our comprehensive list of lodging options in Myrtle Beach. Find what you're looking for with options like Pet Friendly Hotels, Hotels with Continental Breakfast, Ocean Front Hotels, Hotels with Jacuzzi Room, and many more options.
Popular Myrtle Beach Attractions for Spring Break

Ripley's Aquarium – Ripley's Aquarium is home to the 750,000 gallon Dangerous Reef tunnel which holds 10-foot long sharks, piranhas, and other dangerous sea creatures. Your family is sure to enjoy a visit to the Discovery Center for interactive learning, tanks with thousands of vibrant Indo-Pacific fish, and more aquatic attractions.
Ripley's Believe It or Not Museum – This fascinating museum is a must-see for anyone visiting Myrtle Beach. Ripley's Museum items are just as peculiar as its building! See a roller coaster built using more than 30,000 matchsticks, a vampire killing kit, and other memorable oddities housed in a building that was heavily damaged by a hurricane; or so it seems!
Ripley's Moving Theatre – Immerse yourself in a multi-sensory theatre experience at Ripley's Moving Theatre! At this fun attraction, feel every dive, turn, and bump seenin the fast paced movie right from your seat.
Other attractions include Marvelous Mirror Maze, The Haunted Adventure, Planet Hollywood, and more!
Popular Myrtle Beach Shows for Spring Break

Pirates Voyage Fun, Feast, & Adventure Dinner and Show – Guests of every age will enjoy the live action battles, mysterious treasures, 15-foot deep lagoon, and delicious meal presented at Pirates Voyage Dinner and Show. While you watch the pirate crews battle through dance, musical scores, and acrobatic competitions, enjoy a hearty five-course pirate-themed feast.
The Carolina Opry – Take the family to see exciting dance numbers, hear some of the best country music in South Carolina, and enjoy purely old-fashioned musical entertainment at The Carolina Opry.
Medieval Times Dinner & Tournament – Take your loved ones on a journey back in time to Medieval Spain to witness a tournament of knights. The knights will battle for the title of champion, as well as the heart of Princess Catalina. While the show is taking place, feast upon a delicious four-course meal fit for a king!
When:
March 25, 2016 - April 1, 2016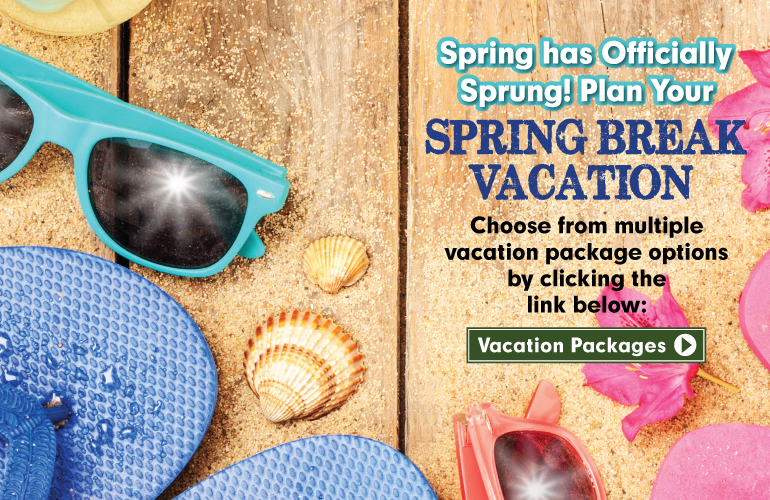 MOST POPULAR THINGS TO DO
IN SOUTH CAROLINA